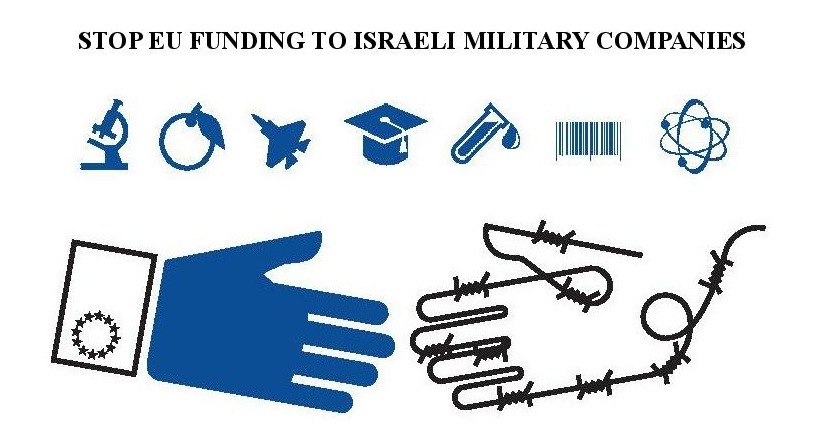 2016 has been another year of mobilising and lobbying against EU complicity with Israeli violations of international law and human rights, in particular through its Research and Development funding cycle Horizon2020. The European Commission feels the heat of pressure to stop European funding to Israel under HORIZON2020, yet more action is needed, especially in view of the 2017 review of the funding cycle. The greatest achievement has been the withdrawal of Portugal from the LAWTRAIN project, a Horizon2020 funded effort to link Israeli police and related institutions with European governments and law enforcement forces. It was the first time a government withdrew from an EU funded project after civil society pressure in support of Palestinian rights. This victory has galvanised more campaigns and efforts. Let's make the 2017 review of Horizon2020 a step in the right direction by pressuring the EU to exclude Israeli military and security companies and institutions linked to Israel's military and prison complex from receiving EU tax money through Horizon2020!
BACKGROUND
HORIZON 2020 is the funding programme of the European Union for projects of research and technology, comprising the budget 2014-2020. So far, Israel is participating in 310 signed agreements involving 369 participations for which they will receive a total of €203,875 million. Already in the previous funding cycle, FP7, the European Union had funded projects of research involving companies such Elbit Systems, which had later used the technologies developed during the project during the attack on Gaza in 2014. The exclusion of Israeli security and defence companies as possible beneficiaries of the European funding programme is a central demand of Palestinian and European civil society. However, several other human rights controversies arise from the partnership between Israel and the European Union and run counter to Article 2 of the EU-Israel Association Agreement that bases the cooperation treaty on respect of human rights and democratic principles. Financing projects involving Israeli security and defence companies is yet another instance in which the EU exposes an open conflict with its own guidelines and principles.
Starting lobbying and campaigning in 2010, one of the first major victories Palestinian and European civil societies organisations and movements had in terms of influencing EU policies, was the issuing of the 2013 guidelines on eligibility of Israeli participants in EU funding and financial instruments. The guidelines ostensibly aimed at excluding projects implemented and companies located in the OPT from EU funding. A step in the right direction, the guidelines show several flaws and hence still do not even end EU support for the Israeli settlement project, let alone other instances of Israeli violation of international law. In fact, the EU with its support to Israeli companies and institutions flouts as well other guidelines, such as the prohibition of the development of dual use technologies, i.e. technology that could later been applied for military reasons, and regulations against misuse and malevolent use of technology developed with EU funding. It soon became clear that the guidelines may serve more as a justification for continued Israeli participation under HORIZON 2020 than as a tool to end EU complicity with Israeli violations of international law.
In 2015, Stop the Wall released a report "Supporting Israeli apartheid: EU funding for Elbit Systems" warning how the EU's relationship with Elbit Systems would be a clear example of EU complicity with Israeli violations of human rights. This was followed up by a letter from Palestinian civil society to Federica Mogherini. In July 2015, 73 MEP submitted a letter to the EU High Commissioner of Foreign Affairs and Security Policy, Federica Mogherini, calling for an end to funding and support of Israeli military and security companies, as
Funding technological development and research to such companies would infringe EU's policy against funding dual use technology

EU public money should be spent on projects that contradict the values and principles of the European Union

Any relation with such companies would make Europe complicit with Israel's violations of international law
A number of parliamentary questions followed. Some of them can be found here.
In November 2015, ECCP – a coalition of 42 European organisations from 19 European countries – sent a letter to the EU, endorsing the call from Palestinian civil society for a military embargo to be imposed on Israel and that the EU and its member states:
End all military relations with Israel,

Implement a moratorium on any further projects involving Israeli military companies from being approved

Conduct transparent review of the activities of Israeli participants in Horizon 2020 that are linked to Israel's violations of international law in consultation with civil society actors. 
FURTHER STEPS IN 2016
2016 has seen not only lobbying efforts targeting the European Union but concrete campaigns focusing on projects that highlight EU complicity in a particular blatant manner.
March 1, 2016: The ECCP held a public hearing in the European Parliament that was sponsored jointly by MEPs from Alliance of Liberals and Democrats for Europe, the European People's Party, and the Socialists and Democrats, a coalition unprecedented on the question of Palestine. Following previously published research by ECCP on the question of Israeli military entities receiving funding from the European Union through the funding programme Horizon 2020, MEPs and experts discussed the issue and agreed on follow up actions. it was exposed that two Israeli arms companies have circumvented European regulations on participation in the Horizon 2020 project by introducing military research, and by including products which have been tested in the Occupied Palestinian Territory (OPT).
March 2016: ECCP publishes a detailed research on the amount of funding and projects under FP7 and Horizon2020 that aid and assist Israeli violations under international law.
March 2016: Stop the Wall publishes the briefing 'FLYSEC – Securing Apartheid in Palestine and beyond', targeting one of the EU projects funded under Horizon2020 including the Israeli military company, Elbit Systems.
April 2016: Stop the Wall publishes the briefing 'LAWTRAIN – European Licence for Torture', targeting this project aiming at developing technology that will unify methodology for police questioning. It is coordinated from Israel and included at the time the participation of the Israeli Ministry of Public Security/Israeli National Police, the Ministry of Justice of Portugal/Judiciary Police, the Federal Public Service of Justice of Belgium and the Ministry of Interior of Spain/Guardia Civil.
May 2016: Stop the Wall publishes two briefings on the complicity of the European Union with Israeli violation of International Human Rights Law and contradictions with its own guidelines when accepting Israeli companies such as Elbit, Motorola, Technicon, and Israel Aerospace Industries.
'Briefing: Dual use and Misuse/Malevolent use of research results in the case of EU funding to Israeli military and security companies'
'Projects under scrutiny – Risks of projects funded through FP7 and Horizon2020 with the participation of Israeli military companies'
June 2016: MEP Miguel Viegas (GUE/NGL) questions the EU on LAW TRAIN and on the participation of Israeli military and security companies in Horizon2020.
August 2016: after lobby and BDS pressure, the Portuguese government decided to withdraw the participation of the Portuguese national police and the ministry of Justice from LAWTRAIN.
September 2016: a letter and lobby activity was done by ECCP members targeting MEPs, EUROPOL, EEAS, Ministries of Foreign Affairs of EU Member States and their Permanent Representatives in Brussels after the call from LAW TRAIN for the constitution of an advisory board. The ECCP and members asked EU member states to ensure non-participation in the project. They cautioned governments that any participation entails complicity with violations of human rights and that the project involves entities, such as the Israeli National Police, which is headquartered in the Occupied Palestinian Territories. With this it is almost impossible to exclude that no activity related to the project is being carried out in the OPT and this brings the project in clear violation with the 2013 guidelines. In their replies to the letters from ECCP members, Austria, Ireland and Finland officially distanced themselves from the participation in the  project. So far, LAW TRAIN has been able to get only three individuals – Ms. Dr. Claire Nee, Portsmouth University, UK – Ethics Advisor, Ms. Jo Taylor, College of Policing, UK, Mr. William Finn, College of Policing, UK – and Ms. Cornelia Geldermans, National Public Prosecutor's Office, Netherlands to participate in this 'advisory board'. Such a meagre result shows the impact of the lobbying but another effort is needed to convince and pressure the participants to withdraw from the board.
September 2016: The campaign against LAW TRAIN and Belgium participation in the project starts. The campaign comprises a large alliance of civil society organizations and solidarity groups. At the end of September 2016 students from KU Leuven organised a direct action in a protest against the involvement of their University in Law Train. In addition the coalition of Belgian civil society organisations in cooperation with OMCT (World Organisation Against Torture) and FIDH sent a letter to the European Commission with a demand to end the Law Train project. In October 2016 Belgian Campaign for Cultural and Academic Boycott of Israel published a full dossier denouncing the Law Train project.
September 2016: Press Conference on the visit of Premier of Luxembourg in Israel, 11-14 September 'The Hidden Sides of a Premier's Visit in Israel', exposing the cooperation of Luxembourg in the FLYSEC project.
October/November 2016 questions by MEP Bart Staes (Verts/ALE) and Ana Gomes (S&D) questioning the EU on the LAW TRAIN project.
The first conference of the European Trade Union Initiative for Justice in Palestine, gathering over 100 trade union delegates, representing twenty nine unions and three million members from all over Europe, underlined the call for an end to EU complicity, such as the current funding through Horizon 2020. Participants discussed concrete steps on the issues in the workshops.
November 2016: ECCP has held its lobby days, focusing on the complicity of EU institutions arising from the EU-Israel Association Agreement and the participation of the Israeli companies and institutions in Horizon 2020.
2017: THE WAY FORWARD
Despite the great victory of having Portugal withdrawing from the project, LAW TRAIN continues its activities. It is time to stop this project, which will create a common platform of interrogation and operation among EU and Israeli police, once and for all. The project legitimises Israeli illegal policies of interrogation, including torture and ill-treatment as well as the entire repressive Israeli institutional set up. Further, the EU has still not been able to answer the simple question whether they can ensure that none of the activities related to the project are carried out in the OPT, considering that the Israeli police headquarters are located in an illegal settlement in East Jerusalem.
LAW TRAIN has tried to make up the withdrawal of the Portuguese government with the creation of an advisory board. So far this attempt has given only meagre results: until now only two individuals – Ms. Dr. Claire Nee, Portsmouth University, UK – Ethics Advisor, Ms. Jo Taylor, College of Policing, UK, Mr. William Finn, College of Policing, UK – and Ms. Cornelia Geldermans, National Public Prosecutor's Office, Netherlands have agreed to participate in this board of complicity. Let's ask these individuals and/or entities to withdraw their support!
Further, ECCP has created an excellent database on Horizon2020 projects that involve Israeli companies and institutions and EU complicity with Israeli violations of international law and human rights. It is important to check that there is no institution in your reach involved in such projects.
While the European Parliament and EU Commission are working on the review of Horizon2020 in 2017, it is important to ensure they continue to feel the pressure – through national campaigns against specific project and campaigning and lobbying at EU level. It is high time that the EU stops using European tax money to support Israeli apartheid.
Roundup 2016 was published by Stop the Wall