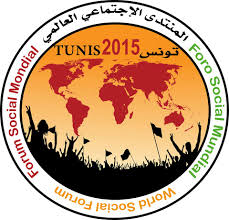 ECCP will be present at the World Social Forum in Tunis from March 24th – 28th. Come and join our activities!
DATE: 25 March – Slot 1 – 8:30-11:00
Conference: The EU, UN, US and Corporate complicity in Israel's apartheid policy
Description: What are the roles of third parties (corporations, institutions, states) in prolonging Israel's occupation of Palestine? Are they complicit in abetting Israel's regime of Apartheid on both sides of the green line? What we, citizens of the world, can do to challenge this? A panel of activists will answer those questions giving ideas for potential actions and more.
Panelists will include:
Zakaria Odeh – The Civic Coalition for Palestinian Rights in Jerusalem,
Charlotte Kates – Samidoun – Palestinian Prisoner Solidarity Network
Nurit Peled- Elhanan – laureate of the Sakharov Prize 2001 for Freedom of Thought and a patron of the Russell Tribunal on Palestine
Erwan Simon – Campagne BDS France,
Ryvka Barnard – War on Want
Andrè Crespin – Intal
Maren Montovani – Stop the Wall/Boycott National Committee
Moderator: Pierre Galand – Russell Tribunal on Palestine/ECCP
Salle: Mini Amphi G
Languages: EN, FR, AR
_______________________
DATE: 25 March Slot 3 – 15-17:30
Conference: Local authorities in support of Palestinian rights
Description: In December 2014 the UN Committee on the Exercise of the Inalienable Rights of the Palestinian People, UCLG, FAMSI and the Junta of Andalucia organized an international conference of local authorities and civil society in support of Palestine. We want to present the concluding document, the Olive Declaration – a document calling on local authorities to promote cooperation with Palestine and to respect their obligations to adopt a principled, ethically responsible and transparent procurement, investment and contracting policies in front of entities involved in Israeli violations of human rights and international law. We further want to discuss steps to follow up this declaration.
Co-organisers: Habitat International Coalition
Panelists:
Pierre Galand – General coordinator of the Russell Tribunal on Palestine, president of the ECCP
Joseph Schechla – Habitat International Coalition Coordinator
Maren Mantovani – Stop the Wall
Antonio Zurita –  FAMSI/UCLG
Salle : TD9
Languages: EN, FR, AR
_______________________
DATE : March 25th from 20:00 – 23:00
PALESTINE, ART & RESISTANCE
Conversation : Art as a tool of resistance
JUST PLAY – doc film by Dimitri Chimen
Panelists:
Alessandra Mecozzi – Associazione Culture e Liberta/ECCP
Samir Abdallah – Artists for Palestine
Pierre Galand – Russell Tribunal on Palestine/ECCP
Space: Centre Culturel IBN RACHIQ, Downtown Tunis