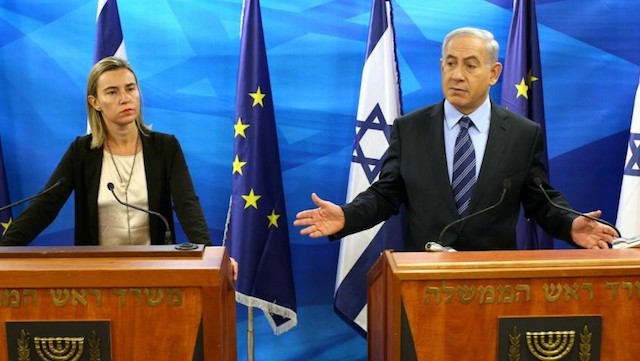 To the attention of :
EU High Representative for Foreign Affairs – Mrs Federica Mogherini,
Ministers of Foreign Affairs of EU Member States,
President of the European Parliament Antonio Tajani,
President of the European Commission Jean Claude Juncker
Brussels, 4 December 2017
Re: Concerning upcoming Foreign Affairs Council meeting of December 11th
We are writing in advance of the forthcoming Foreign Affairs Council meeting of December 11th .
It is deeply concerning that the Prime Minister of Israel, Benjamin Netanyahu, is scheduled to meet with EU foreign ministers in Brussels on 11 December in what would be the first event of its kind since 1995.
Since 2012, EU-Israel ministerial meetings have been put on hold. Since then, the EU has considered the context unfavourable to restarting the meetings process. The context is no more favourable today – on the contrary, the situation has dramatically worsened.
The state of Israel persists in refusing to address its gross violations of international law and human rights abuses, including
War crimes committed in Gaza;

The acquisition of territory by force and the colonisation of this territory with illegal settlements (it is worth noting in this context that several Israeli Ministers are themselves illegal settlers);

The arrest and torture of minors;

The illegal process of administrative detention (internment without trial) and other repeated violations of the rights of Palestinian political prisoners;

Policies of forced population transfer, especially in 'Area C' and, in particular, in the Jordan Valley

Continuous, and increasing, attacks on and arrests of Palestinian human rights defenders;

Demolitions of Palestinian residential, commercial and agricultural buildings and infrastructure, including items funded by the EU;

The refusal to allow Palestinians to exercise their rights to self-determination;

The refusal to allow Palestinian refugees to exercise their right of return guaranteed in international law;

Continued discrimination against Palestinian Citizens of Israel;

Continued incitement against Palestinians and other minorities by top officials, including Ministers, and official incitement against and attacks on civil society organisations within Palestine and Israel;
All of the above make clear that Israel continues, with complete impunity, to trample all over the "human rights and democratic principles" that we are told are an "essential element" of the EU-Israel Association Agreement, as stipulated in Article 2.
In addition Israeli government ministers have made threats of physical violence against EU citizens peacefully advocating for Boycott, Divestment and Sanctions (BDS) as a means of compelling Israel to abide by international law. As Amnesty International has noted, "an especially alarming statement came from Israeli Minister of Transport, Intelligence and Atomic Energy Yisrael Katz who called on Israel to engage in 'targeted civil eliminations' of BDS leaders with the help of Israeli intelligence". Increasing numbers of people, many from Europe, are being denied entry in to Palestine and/or Israel by Israeli officials, among them persons who are part of EU founded projects in the occupied Palestinian territories.
In light of the above, hosting and attending a meeting with the Prime Minister of Israel – the personage in whom ultimate responsibility for the above crimes rests – will be seen as an the EU contributing to the official legitimisation and normalisation of the systematic violations of the international law, international humanitarian law, the law of armed conflict and collective human rights, which have become part and parcel of Israeli policy.
The European Union has repeatedly criticised Israel's construction of settlements, its disproportionate use of military force and its many other violations of international law. Despite this, the Israeli government has refused to put an end to those illegal practices and has refused to abide by its obligations under international law.
We urge you to align your words with principled action and cancel the upcoming meeting with Netanyahu
Given the serious and deteriorating situation for Palestinians living under Israel rule, we believe it is vital to demonstrate that breaches of international law have consequences – both in diplomatic and political relations and in the area of scientific and economic agreements.
It is time for the EU to show its commitment to human rights and democratic principles by applying restrictive measures on Israel, including by suspending the Association Agreement, in order to demonstrate it is serious in its demands for Israel to comply with international law.
We therefore urge you to refuse to attend this meeting with the Prime Minister of Israel on December 11th, and to seek its outright cancellation by the Foreign Affairs Council.
We kindly request that you inform us as to the position you intend to take concerning the forthcoming meeting.