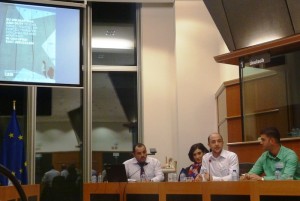 On November 15th – 19th representatives of Palestinian and Israeli human rights organisations from Jerusalem visited Brussels and called on the EU to implement international law and EU legislation in order to stop Israel's violations in the city.
The delegation included a co-funder of Boycott National Committee and Badil – Ingrid Jaradat – working for Civic Coalition for Palestinian Rights in Jerusalem, Sergio Yahni from Alternative Infromation Center, Daoud Ghoul from Health Work Committees and Rami Saleh from JLAC.
At the conference organised on Monday – November 17th in the European Parliament by Belgian MEP Maria Arena (S&D), Ingid Jaradat from the Civic Coalition for Palestinian Rights in Jerusalem reminded that in 1967, Israel illegally annexed East Jerusalem and 28 Palestinian villages near by.
"International community condemned vigorously the unilateral annexation of occupied East Jerusalem, as well as Israel's declaration to turn Jerusalem into its capital. Nonetheless, 47 years later, systematic violation of the rights of Palestinian people in Jerusalem has reached such a peak that their existence in the city has been seriously affected" – Jaradat stated.
"The frustration among the Palestinian people in Jerusalem is unbearable and their personal experiences bring them to commit desperate actions", says Daoud Ghoul, coordinator of Qanaan – a Palestinian network of civil society organisations. He added that every day visits to Esplanade of Al Aqsa Mosque organised by Jewish extremists tries up the tensions between the two communities.
Rami Saleh, Director of Jerusalem Legal Aid and Human Rights Centre, denounced that ongoing Israeli policies in the city including demolition of Palestinian homes and revocation of residency rights accompanied by ongoing settler attacks are aiming at changing the demographic balance in the eastern part of the city.
"While many Palestinians are forced to leave East Jerusalem, the contiunued building of illegal Israeli settlements lead to a situation where a third part of all Jewish population of Jerusalem are settlers illegally established in the Palestinian territory", explains Saleh.
The European Coordination of Committees and Associations for Palestine has reminded members of the European Parliament that the European Union and its 28 member states have an obligation to end Israeli policies of colonialism, forcible transfer and apartheid in the Palestinian part of the city. They therefore recommended the adoption of restrictive measures against Israel that the EU has at its disposal.
"If it took a few weeks for the European Union to take sanctions against Russia we do not understand how, after more than 47 years of illegal colonization of East Jerusalem, Europe is not able to suspend its preferential agreement with a state that systematically breaches UN resolutions and the IVth Geneva Convention", says Pierre Galand from ECCP.
In addition, conference participants called on the EU to exclude Hebrew University (that is partially build on the land of the Palestinian villige Issawia) from its academic and research cooperation.
"It is very significant that Horizon2020 – EU Program for Research and Innovation – with allocation of 80 bilion euros of European public funding was signed by Duaro Barroso at this university" – said Magali Thill – coordinator of RESCOP – a Spanish network of Palestine solidarity organisations.
Agnes Bertrand from Aprodev – a world council of churches related development organisations in Europe pointed out that the fact that more than 19 EU Member States warned its citizens against doing business with illegal Israeli settlements, including those based in East Jerusalem was a good first step. Nonetheless, she added that it is still extremely difficult to find those recommendations on the websites of the Ministries of Foreign Affairs of the EU MS, and that they were not properly disseminated among the European companies.
Michael Deas – coordinator in Europe with the Palestinian Boycott, Divestment and Sanctions National Committee (BNC) reminded that the EU has imposed restrictive measures, including the suspension of Assocation Agreements and trade restrictions, on a wide range of countries that violate international human rights and humanitarian law, including Russia and Sri Lanka. He pointed out that European businesses play a major role in funding, facilitating and supporting Israeli violations of international law and illegal Israeli settlements in occupied East Jerusalem
The full report about EU obligations towards East Jerusalem with the list of 20 demands from the civil society organisations to the EU is available on the ECCP website.
Conference was organised in cooperation with the Basque organisation Mundubat.