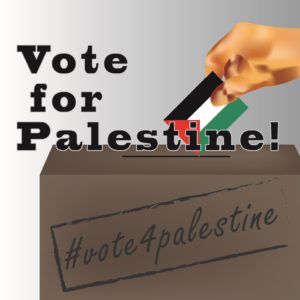 Challenging local, regional, and national politicians on their position on European complicity with Israel's crimes against the Palestinian people is a very important ongoing activity. Particularly in the run-up to elections, engaging candidates and parties in EU-Israel relations related questions can have an impact.
We're asking all supporters of Palestinian rights to hold your candidates to account during the European Elections!
Between May 23 and 26, EU citizens will vote for their new representatives at the European Parliament. But what do we actually know about our candidates' position on EU-Israel relations and European complicity with Israeli war crimes and human rights violations? What do they think about EU taxpayers money being channeled to Israeli military companies like Elbit Systems, Israel's largest private security company who test their weapons on Palestinian civilians in Gaza so they can promote them as "battle tested"? Will they protect our right to free speech and right to engage in the non-violent Boycott, Divestment and Sanctions (BDS) campaign?
These are some of the questions which ECCP members sent to their candidates to the European Elections.
Find out your European candidates' views on EU-Israel relations before the European Elections! Vote for Palestine!
IRELAND/ ITALY/ FRANCE/ SLOVENIA/ THE NETHERLANDS/ BELGIUM/ LUXEMBOURG