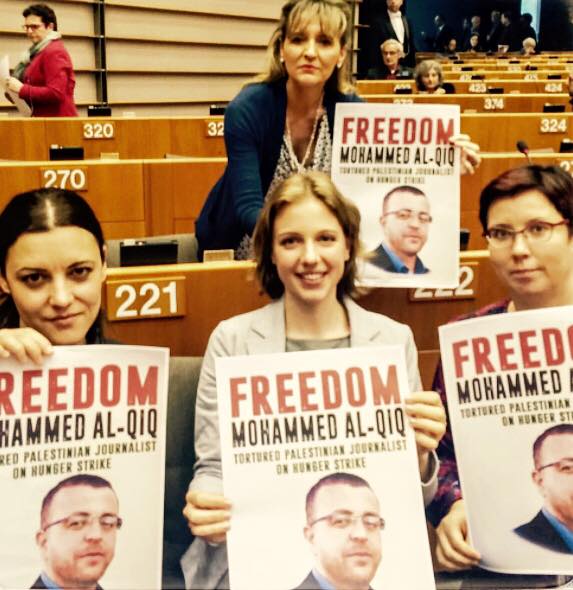 A letter demanding that Federica Mogherini address the case of Mohammed al-Qeeq, who is now said to have1 surpassed any recorded hunger strike without supplemented vitamins in Palestinian or Irish history, was delivered today. 60 MEPs, led by MEP Bart Staes, called on Ms Mogherini to "take immediate and effective action to ensure the safety of Mohammed al-Qeeq".
The letter echoed the recent UN call to either "charge or release Mr al-Qeeq", and was co-signed by MEPs from across 5 of the 8 political groupings in the European Parliament. This letter follows an emergency session last week of the Delegation for Relations with Palestine, and comes amidst a growing international concern for and solidarity with Mr al-Qeeq.
MEP Martina Anderson spoke out during the Parliamentary Session on the 25th February on Mr al-Qeeq's behalf: "The EU must put pressure on Israel to save the life of al-Qeeq before it is too late", said Anderson. "Al-Qeeq is undertaking this strike for all Palestinian prisoners. He is hunger-striking in protest at being detained without charge and against being tortured… I call on EU High Representative Mogherini to pick up the phone and call Israeli Prime Minister Netanyahu to intercede on his behalf".
1) Amani Dayif, Physicians for Human Rights – Israel
Read the full letter here