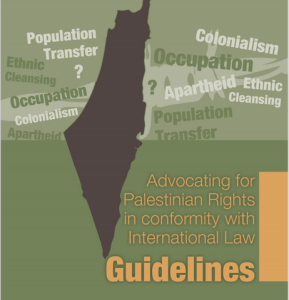 Published by the Civic Coalition for Palestinian Rights in Jerusalem in cooperation with the Birzeit University Institute of Law this guide is an outcome of the conference "Options and Strategies of International Law for the Palestinian People". It aims to help non- lawyers understand and apply international law to Israel's oppressive regime over the entire Palestinian people: those in the Occupied Palestinian Territory since 1967 (OPT), Palestinian citizens of Israel and the refugees since 1948. It explains briefly:
1)Why speaking only about "occupation" is not enough;
2) Why we should rather speak about (settler) colonialism, population transfer (ethnic cleansing) and apartheid, in addition to occupation;
3) How we can do so in accordance with international law;
4) Why colonialism, population transfer and apartheid, as legal frameworks, are helpful for building pressure on third parties to take action against Israel's oppressive regime.
Read the guidelines in:
English/ French/ German/ Arabic/ Spanish