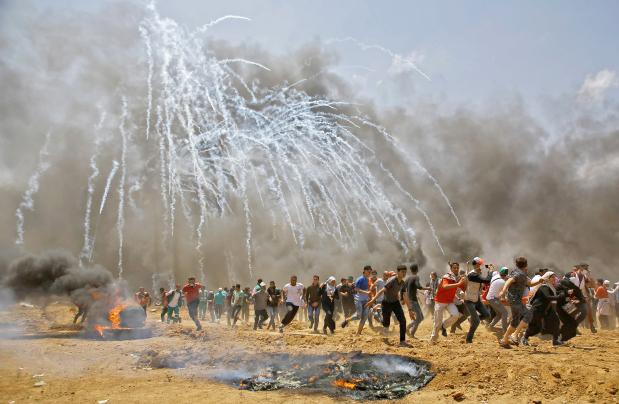 "It can never be business as usual. Israeli universities are an intimate part of the Israeli regime, by active choice. While Palestinians are not able to access universities and schools, Israeli universities produce the research, technology, arguments and leaders for maintaining the occupation",
 Desmond Tutu, 2010, speaking shortly before the University of Johannesburg cut ties with Ben Gurion University
In April 2018 a new call urged the EU to uphold its legal responsibilities by excluding Israeli military companies and 'dual use' technologies from EU Framework Programmes. The call was signed by more than 150 organisations throughout Europe (ECCP, 2018).
'Dual use' potential should lead us to question any claim that a technoscientific development has purely civilian relevance. Commercial design frequently blurs any distinction between civilian and military uses. More fundamentally, political regimes blur that distinction as our societies become militarised. Through securitisation agendas, societal conflicts are turned into 'security threats' which warrant various instruments – threat assessments, mass surveillance, counter-insurgency and lethal force – thus treating civilians as if they were a military force at war.
For this securitisation agenda, a central role has been played by Israeli universities with funds from EU projects and research partners from our universities. Their support makes us complicit in war crimes, as this article will show.
Securitisation agenda linking the EU with Israel
The EU's research Framework Programmes generally have had their legal basis in the EC Treaty's Article 163 on R&D. By contrast, its 'Security Challenges' research programme was given a legal basis in Article 157 on the 'competitiveness of the Community's industry'. This Programme has conflated diverse problems such as migration, public disorder, organised crime and terrorism as security threats.
This securitisation agenda eventually permeated the EU's broader research Framework Programmes. Despite the economic crisis, EU funding for new security tools will double during Horizon 2020, the current research Framework Programme. Indeed, 'security' has become the EU's increasingly default response to complex social and ecological crises (TNI, 2017).
This agenda has been driven by and benefited Israeli partners of research projects for at least the past decade. From the standpoint of EU research chiefs, Israeli partners offer crucial expertise for enhancing the global competitiveness of European institutions. For Western elites more generally, the model is Israel's military-industrial complex, which has produced a world-leading security industry. As one of many examples, the RAND Corporation and the Hebrew University of Jerusalem participated an EU project (EUSECON) aiming to establish a research network to provide 'research-based policy advice on economic aspects of security' (Hayes, 2009).
The EU has funded weapons development by Israeli companies, while downplaying the military design. Israel Aerospace Industries has received EU funding via 29 projects. The EU's ambassador in Tel Aviv has congratulated Israeli partners in EU collaborative projects, such as Israel Aerospace Industries for 'developing the aircraft of the future'. This is a euphemism for the company manufacturing the Heron drone, which has been used in attacks on Gaza (Cronin, 2018).
Since the 1990s, the Zionist colonisation project has become 'Occupation Inc.', i.e. a private military-security-industrial complex which turns systemic violence into an export commodity (Hever, 2017). Israeli security forces have become increasingly dependent on high-tech devices from Israeli universities. New technologies help Israel to impose its Occupation with fewer soldiers, while also providing new export products for Israel's security industry (Right2Edu, 2014).
The Occupation has become a crucial laboratory for testing Israel's novel weapons. Its arsenal encompasses nanotechnology, hidden camera systems, information databases on civilian activity, automated targeting systems and unmanned drones. It offers 'combat proven' weaponry, i.e. tested on the Palestinian as dangerous 'Other'. This regime has become an attractive model for states worldwide constructing putative 'enemies' which warrant repressive or even lethal responses (Halper, 2015).
Israeli universities facilitating and sanitising military uses
Israeli security forces have become increasingly dependent on high-tech devices from Israeli universities. New technologies help Israel to impose its Occupation with fewer soldiers, while also providing new export products for Israel's security industry. Collaboration with the arms industry has come from the Technion in Haifa, the Weizman Institute in Rehovot, the Hebrew University and Ben Gurion University and Tel Aviv University.
Many examples blur the civilian-military distinction. The Haifa Technion helped to develop the D9 remote-controlled bulldozer, widely deployed in the destruction of Palestinian homes. During 2008-2013 it had a research partnership with Elbit Systems Ltd., which provides electronic detection devices used in the Israeli Separation Wall in the West Bank, and has also supplied drones to the Israeli army for use in combat in the West Bank and Gaza (Right2Edu, 2014; see also Mullen and Dawson, 2015).
Bar-Ilan University has participated in joint research with the army, specifically in developing artificial intelligence for unmanned combat vehicles (Keller, 2009). Graphene can enhance lithium batteries in drones for either military or civilian uses; graphene has been developed collaboratively by the University of Manchester with Israeli companies and universities (Ammori and Dropkin, 2018; see their article in this issue).
Technion University has become virtually the R&D wing of the Israeli military. In 2008 it opened a center for developing electro-optics in partnership with Elbit, one of the largest Israeli weapons companies (Keller, 2009).
Technion has manufactured technologies specifically to torment recalcitrant populations. The 'Scream' is a 'non-lethal' acoustic system that 'creates sound levels that are unbearable to humans at distances up to 100 meters', according to Technion. This crowd-control weapon is mainly used to suppress peaceful demonstrations in the occupied Palestinian territories (Lee, 2017). It has been nick-named 'the Shofar', a horn blown on High Holy Days as a reminder to repent for the sins of the past year; apparently the Palestinians must repent for Israel's war crimes.
As Palestinian academic Lisa Taraki argues, the Israeli academy is structurally complicit in state violence against Palestinians. High-level appointments have gone to 'individuals known to have supervised and designed repressive measures and persistently committed violations of international humanitarian law against Palestinians in their other careers as military and intelligence functionaries' (Taraki, 2015). Such individuals are treated as prestigious rather than as morally abject.
Universities help to sanitise Israeli weaponry in other ways. For example, a Technion course teaches students how to brand and market Israel's defence industry to global audiences. 'Through academia, the arms industry can present itself as furthering technological and theoretical advancements, disconnected from any violent effects on the ground', argues Haifa's Coalition of Women for Peace (Lee, 2017). See Picture 2.
In sum, all Israeli universities serve a securitisation agenda, blurring the civilian/military distinction. Likewise the country's military-security-industrial complex. It uses Palestine as a laboratory for exporting an entire model of terrorising, controlling, suppressing and/or murdering recalcitrant populations. If we use the term 'dual use' at all, then it should refer to the systematic role of Israeli universities.
Protesting against EU complicity
Collaboration between EU and Israeli universities has provoked protest in many places. For example, the EU has been funding the Law Train project, aiming to develop interrogation techniques through collaboration between KU Leuven and Israeli police. This collaboration attracted protest by students and eventually by a community campaign, the Plate-Forme Charleroi-Palestine, which has faced police harassment. See Picture 3.
Ghent University professors have been demanding that the institution end its collaboration with Israeli research partners which have close ties with the Israeli army: 'This collaboration makes the university complicit in war crimes and crimes against humanity', they argued. The protest emphasised UGent collaboration with the Israel Institute of Technology and Israel Aerospace Industries because they work with Elbit Systems, which develops the Hermes drones used in the 2014 attacks on Gaza (Furniere, 2018).
Such examples highlight how Israel's military-security-industrial complex depends on its universities and research institutes. Any UK university partnering with them becomes complicit in Israeli's war crimes. Academic staff and students have a responsibility to stop or prevent such collaboration.
Les Levidow
References
Ammori, H. and Dropkin, G. 2018. Entangled: Graphene, Arms and the University of Manchester,
http://www.getnancyout.com/entangled.html, http://www.labournet.net/other/1804/entangled.pdf,
http://therealnews.com/t2/index.php?option=com_content&task=view&id=31&Itemid=74&jumival=21690
Cronin, D. 2018. EU funds Israel's war industry, Electronic Intifada, 29 March, https://electronicintifada.net/blogs/david-cronin/eu-funds-israels-war-industry
ECCP. 2018. No EU money to the Israeli Arms industry! Brussels: European Coordination of Committees and Associations for Palestine (ECCP),
https://www.eccpalestine.org/european-trade-unions-political-parties-human-rights-organisations-and-faith-groups-call-on-the-eu-to-stop-its-support-to-israeli-military-companies/
Furniere, A. 2018. UGent professors demand end to Israeli research collaboration, Flanders Today, 6 May, http://www.flanderstoday.eu/education/ugent-professors-demand-end-israeli-research-collaboration
Halper, J. 2015. War Against the People: Israel, the Palestinians and Global Pacification, London: Pluto.
Keller, U.Y. 2009. Academic Boycott of Israel and the Complicity of Israeli Academic Institutions in Occupation of Palestinian Territories, Socio-Economic Bulletin no.23, Jerusalem: Alternative Information Center, https://bdsmovement.net/files/2011/02/EOO23-24-Web.pdf
Hever, S. 2017. The Privatization of Israeli Security, London: Pluto.
Lee, S. 2017. Top Israeli university marketing country's arms industry to the world, +972 Blog, https://972mag.com/top-israeli-university-marketing-countys-arms-industry-to-the-world/125720/
Mullen, B.V. and Dawson, A. (eds) 2015. Against Apartheid: The Case for Boycotting Israeli Universities. San Francisco: Haymarket Books.
Right2Edu. 2014. The academic boycott of Israel explained. Birzeit University: Right 2 Education Campaign, https://www.eccpalestine.org/wp-content/uploads/2018/04/Call_signatories4.pdf
Taraki, L. 2015. The complicity of the Israeli academy in the structures of domination and state violence, inMullen and Dawson (eds), Against Apartheid: The Case for Boycotting Israeli Universities. San Francisco: Haymarket Books.
TNI. 2017. Market Forces: The Development of the EU Security-Industrial Complex. Amsterdam: Transnational Institute, https://www.tni.org/en/publication/market-forces-the-development-of-the-eu-security-industrial-complex
The article was published in May 2018 Newsletter, British Committee for the Universities of Palestine (BRICUP)