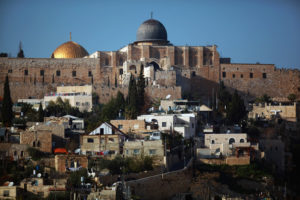 January 2012
"Without Jerusalem as the future capital of two states, a sustainable peace agreement between Israel and the Palestinians will not be possible.  Over the past few years, Israel's actions in East Jerusalem have run counter to its stated commitment to a sustainable peace with the Palestinians through the two-state solution. If current trends are not stopped as a matter of urgency, the prospect of East Jerusalem as the future capital of a Palestinian state becomes increasingly unlikely and unworkable." (EU Heads of Mission Report on East Jerusalem (2011)).
The fate ofJerusalemhangs in the balance. Within East Jerusalem, the Palestinian population is being steadily reduced, through land confiscation, evictions, home demolitions and residency laws discriminating against non-Jews. Settlements severJerusalemfrom the rest of theWest Bank, threatening to make a future Palestinian state non-viable. Everyday life for Palestinians is a grinding struggle.
EU and international criticism of the situation inJerusalemhave so far failed to result in changes of policy or practice. Yet, the EU has so far resisted taking any additional sanctions againstIsrael.
1.       Background
When the United Nations voted in 1947 to partitionPalestine,Jerusalemwas designated an international zone, lying in the heart of what was intended as a Palestinian state. ButIsraellater occupied 78% of what had beenPalestine, includingWest Jerusalem. Following the 1967 war, when Israeli forces occupied the rest of the West Bank andGaza, they illegally annexedEast Jerusalem. The EU and the international community have made clear they want a sharedJerusalembutIsraelhas unilaterally declaredJerusalemthe "undivided, eternal capital ofIsrael".
2.       The wall
The Wall is almost completed inJerusalem, shutting many Jerusalemites out of their city. The two major checkpoints for Palestinians render movement in and out extremely difficult.  West Bank Palestinians and Jerusalemites who've had their permits revoked are denied access unless they obtain special permits fromIsrael. However, permit carriers can be banned from leaving or entering with no notice.
This has led to additional commuting times and hardships, reduced access to religious sites, medical and education centres, and severe disruption to economic activity. Many Palestinian organisations and businesses have leftJerusalemas a result, leading to disintegration of cultural and social life inJerusalem. In December 2011, the Israelis completed the construction of the wall around Shuafat refugee camp and opened a new checkpoint.
3.       Identity and status laws
Palestinian Jerusalemites, many of whose families have lived in the city for centuries, are obliged to carry annually renewable ID cards, which give them 'the right' to live in East Jerusalem. However, the ID card can be revoked on a variety of pretexts, which would not affect the status of Israelis who are given unconditional right to remain. 4,000 IDs were revoked in 2009 alone, 20 times more than in any previous year. The construction of the separation wall has recently been completed in Shuafat East Jerusalem neighbourhood, definitely cutting some 70.000 Palestinians, holders of the Jerusalem ID cards, from the city. Jerusalem Mayor Nir Barkat declared that Palestinians living outside of the wall will be transferred to the West Bank civil administration meaning a de facto dispossession of Jerusalem ID cards for 70.000 individuals.
4.       Settlements
Illegal Israeli settlements form an inner and an outer ring aroundJerusalem. The inner ring consists of large government-initiated settlements within Israeli-defined municipal boundary ofJerusalem. Those settlements, home to approximately 200,000 settlers, in combination with the separation wall, cut offJerusalemfrom theWest Bank. The outer ring further isolates the West Bank from the Palestinian cities of Ramallah and Bethlehem: it comprises three main blocks of settlements, located outside the municipal boundary of Jerusalem but largely on the west side of the barrier. They are home to around 100,000 settlers. Moreover, settlements continue to be built on land confiscated from Palestinians, in and aroundJerusalem. Israel's widely promoted partial settlement 'freeze' in 2010 didn't include East Jerusalem where settlement building increased.
The most ambitious settlement project underway is project E1 to the east ofJerusalem. This will form over 3,500-4,000 housing units for around 14,500 settlers built on 12,000 dunums of Palestinian land, stretching fromJerusalemtoJericho. It will completely surround the city of Jerusalem and divide the West Bank into two separate geographical areas, and establish contiguity between the settlement of Ma'ale Adumim and Jerusalem. This project will geographically cut off East Jerusalem from the rest of theWest Bankand consequently render a Palestinian state non-viable.
Most recently, the Givat Hamatos project for 2.610 apartments has been condemned by UN Secretary Ban Ki-Moon. The new illegal settlement will be located between Bethlehem and Jerusalem. It will connect the Gilo settlement to Har Homa and will isolated East Jerusalem from Bethlehem.
Transport systems including the light railway and bus system, with the involvement of European-based companies (Alstom and Veolia), serve settler traffic around Jerusalem, integrating the outer settlements into the city. At the same time settler-only highroads connectJerusalemand Tel Aviv to settlements in theJordanValley.
5.       Planning
The most recent Master Plan for theMunicipalityofJerusalemwas produced in May 2010 to cover the period till 2030. Currently, about 36% ofJerusalem's 722,000 residents are Palestinians, concentrated entirely inEast Jerusalem, projected to rise by 2030 to 47%. TheJerusalemauthorities have openly stated that they do not wish the Palestinian population to exceed 30%.
Planning regulations limit Palestinian growth, for example by zoning areas immediately adjacent to Palestinian districts as non-residential and by allowing a higher density of building in Jewish neighbourhoods. The absence of sufficient infrastructure, including roads, water mains and sewage facilities further limits the expansion in the Palestinian neighbourhoods and create many problems in the development of the Palestinian community at the education level for instance. Adding to that, there is no Palestinian institution to take care of the Palestinian community. Since 2001,Israelcloses these institutions and threatens any Palestinian politician active inJerusalem.
It is extremely difficult for Palestinians to obtain building permits and homes without permits are routinely demolished. Palestinian houses are usually overcrowded and in a bad conditions. As for the EU Heads of mission onEast Jerusalem, 1500 housing units would be necessary to cover the Palestinian housing need. The past years Palestinians have received fewer than 200 building permits per year. Many Palestinian areas are excluded from the planning process altogether, which means that no building permits can be authorised. According to Israeli statistics, from 2000 to 2008 the Israeli authorities demolished more than 670 Palestinian homes inEast Jerusalem. The EU Heads of mission onEast Jerusalemreports about 85,000 Palestinians risk losing their homes.
In the working class Palestinian area of Silwan 88 houses await demolition to make way for the 'Gardens of the City of David', an extension of the archaeological site. On 28 December, the Jerusalem Planning & Building Committee approved an El'ad sponsored plan for building a vast Israeli touristic complex in the Palestinian neighbourhood of Silwan. El'ad is a settlement organisation which aims to transform Wadi Hilweh/Silwan into extension of Old city Jewish quarter.
Property is often seized on the pretext that it was once in Jewish ownership, often on very flimsy or forged evidence. However, similar arguments are legally barred to Palestinians even if they have retained title deeds to property inWest Jerusalemafter their expulsion in 1948. 500 inhabitants of the Palestinian area of Sheikh Jarrah district have been subject to eviction orders in such a case.
6.       International law
All the above policies and actions are in contravention of international law, and have been condemned by dozens of UN resolutions.
"The occupying power shall not deport or transfer parts of its civilian population into the territory it occupies." Article 49, Paragraph 6 of the IVth Geneva Convention
"It is forbidden for an occupying state to destroy any movable or immovable private property belonging to individuals, groups, states, public authorities, social organisations or cooperatives unless military operations require such destruction." Article 53 of the IVth Geneva Convention
"The lives of persons, and private property must be respected: private property cannot be confiscated" Section IV, Article 46, The Hague Convention on Respecting the Laws and Customs of War on Land.
The International Court of Justice ruling on 9 July 2004 declares the Wall illegal and instructs the International Community "not to render any aid or assistance in maintaining the situation created by it."
ECCP recommendations to the European Union:
The clear and longstanding position of the EU regarding East Jerusalem (all settlements are illegal under international law; East Jerusalem is part of occupied Palestinian territory; the EU does not recognize the annexation of East Jerusalem by Israel) has been reiterated in the Council Conclusions on the Middle East Peace Process (2009, 2010, 2011).
Notwithstanding the EU's position, and as accurately developed in the EU Heads of Mission Report (2011), there is, in East Jerusalem, "a continued expansion of Israeli settlements, restrictive zoning and planning, frequent house demolitions and evictions, an inequitable education policy, difficult access to health care for Palestinians, inadequate provision of resources and investment and precarious residency issue that have not only serious humanitarian consequences, but also undermine the Palestinian presence in East Jerusalem".
Therefore, the ECCP calls upon the EU to act according to its stated position and to take concrete measures to pressure the Israeli government to abide by its international obligations. The EU-Israel Association Agreement and Israeli participation in EU programs must be immediately suspended as long as Israel does not comply with International Law, International Human Rights Law and the Association Agreement itself (article 2 and art. 83).