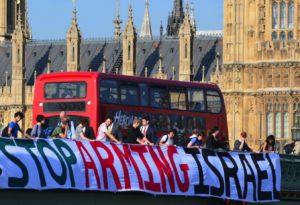 An extraordinary session of the Russell Tribunal on Palestine was held in Brussels last 24th September (2014). This Court established that war crimes and crimes against humanity were committed by the Israeli army in Gaza during Operation Border Protection. It also concluded, having listened to many testimonies, that the discourse used at different levels of the Israeli society during summer 2014 had reached the threshold needed to qualify it as a direct and public incitement to commit genocide.
The crimes committed by Israel in Gaza that summer would not have been possible without the complicity of Western States, primarily American, but also European.
On the military level, serious complicity between Europe and Israel does exist through a cooperation conducted by 13 out of 28 Member States, in particular by France, Germany, the United Kingdom, Italy, Spain, Poland and Belgium. The value of arms export licenses towards Israel issued by some EU governments increased from 157 million Euros in 2011 to 630 million in 2012, representing an increase of 290%. Some experts believe that the real value of this cooperation amounts to billions of euros, not only hundreds of millions.
Military cooperation, especially on the nuclear level, has developed between France and Israel since 1956. It was suspended under de Gaulle in 1967 before being relaunched under President Sarkozy. It operates through one of the economic empires in France, like the Lagardère group. First of all, we speak of a media empire, controlling TV stations such as MCM, radio stations like Europe 1, RMF, newspapers like France Dimanche, the Journal du Dimanche, Nice-Matin, the magazines Paris Match, Marie-Claire, Télé 7 Jours, Elle, publishing houses such as Hachette and Grasset.
But Lagardère is also a huge arms dealer with EADS, Europe's main military consortium. EADS also controls Airbus. EADS is collaborating closely with Israel Aircraft Industries, specialized in the manufacturing of drones. This partnership operates in cooperation with the French State where the Government armaments Agency (DGA) has established a two billion program providing for the manufacture of 40 drones for Europe. What are these unmanned aircrafts for? They are used as a spy on the Palestinian population in order to prepare attacks of the Israeli army. However the Gaza operation has shown us that some of these drones were equipped with warheads striking ground targets. The war in Gaza has demonstrated the terrible effectiveness of this cooperation through the manufacturing and development of those weapons of death and destruction.
I come to speak about Italy. Perhaps more than any other European country, Italy has offered a solid support for the Israeli attacks on Gaza. When the massacres began in early July, it offered two training jet aircrafts M-346 to Hatzerim, an air base located in the Negev. These warplanes – the most "advanced" of their type, according to their manufacturers – are used for pilot training sessions in operations simulating those that were performed last summer at the expense of 1.8 million Gaza residents.
Both aircrafts are the first of a batch of thirty M-346 training aircrafts purchased by Israel in 2012 to Alenia Aermacchi, a company belonging to the Finmeccanica Group, the leading Italian manufacturer of weapons. They are part of a "reciprocal" public contract, which largely favours Israel. The remaining 28 aircrafts are to be delivered in 2016.
Sardinia was planning to host a multinational military exercise last September. The Israeli Air Force – one that bombed women and children in Gaza – should participate. Under the pressure from civil society organizations, this cooperation there was cancelled.
Germany conducts a military cooperation with Israel since the 1950s. In recent years it has provided Israel with equipment for Israeli Merkava 3 and Merkava 4 tanks, which occupied southern Lebanon in 2006 and Gaza already in 2009. It also provided anti-aircraft batteries of Patriot type. Other ranges of cooperation cover communication equipment, electronic and optical systems. This cooperation has always been largely kept secret. Something the Nobel laureate Gunther Grass wanted to denounce, two years ago, when he wrote in the Süddeutsche Zeitung, "Was gesagt werden muss." (What needs to be mentioned"). He wanted to disclose that Israel is a nuclear power threatening the world peace and he blamed his country for delivering submarines, which can then be equipped with nuclear warheads to Israel. He warned that complicity might arise for Germany in case of preventive nuclear attack of Israel against Iran.
In 2005 Berlin and Tel Aviv concluded a conventional submarines type Dolphin sales contract, whereof a sixth specimen was about to be delivered. Grass had denounced the "widespread silence" weighing on this issue, speaking of a "heavy lie" as "the verdict of antisemitism will automatically fall" for whom will break it. This writing triggered a huge controversy in Germany.
Regarding the United Kingdom, a close collaboration does exist between the British government and the Israeli occupier. This happens particularly through cooperation with the Israeli arms company Elbit. Elbit Systems is the largest producer of equipment for drones. It is the world's leading exporter of unmanned aircrafts.
The Hermès drone made my Elbit is the most used by the Israeli army, especially in the Gaza Strip, where the 450 (type) equipped with 2 medium-range missiles, has been widely used against Gaza's civilian population.
The material for drones manufactured in this Birmingham plant was exported to Israel in 2010, 2011 and 2012, and these drones were used in the on-going massacres in Gaza, including the Hermes 450, which had already caused numerous victims during "operation Cast Lead" in 2008/2009.
Like most Israeli arms companies, Elbit also benefits from the Israeli occupation of Palestine. The Israeli industry "of homeland protection" uses Palestine as a laboratory to test the improvements of its occupation and Control methods; the Palestinians are considered as involuntary guinea pigs.
This Israeli technology is then sold to regimes also interested in the repression of the poor and marginalized: for example the US, where Elbit won a lucrative contract of US $ 155 million to provide border surveillance Techniques between Mexico and Arizona.
The apogee of perversion of the system was reached at the US stock exchange where Elbit shares are traded on the rise since the beginning of the last Israeli offensive against the Gaza Strip. Their rate was then increased by 6.1%. The Jewish state has become the leading exporter of pilotless planes, ahead of the US.
All this military cooperation of the Europeans is in violation of a Code of Conduct of the European Union, which became a common position in 2008 and is thus legally binding. According to this common position, "the Member States are determined to prevent the export of military technology and equipment which might be used for internal repression or international aggression or contribute to a regional instability". Among the 8 criteria are listed the "respect for human rights in the country of final destination" and the "respect for international humanitarian law by that country." Another criteria refers to the "preservation of peace, security and regional stability." (2)
The dispatching of exports by recipients being made public, it appears that since 2001 and over a period of eight years, 20 EU States exported, to varying degrees, military equipment to Israel. France totals 50% of the exports. (3) All this shows how the hypocrisy of Europe is obvious.
Stop to any European military cooperation with Israel
You should know that Israel cannot act alone, but only with the support of governments and multinationals having names and addresses. It is about time, claims a UK BDS activist group, that the solidarity movement with Palestine goes into a higher gear in its actions against those supporting Israel in this way, taking advantage of Israeli apartheid, in order to isolate it.
Nine British militants of this group, acting within the framework of the BDS campaign, led the example. During the operations in Gaza they occupied the roof of the Elbit Company near Birmingham. They claimed that the British government should cease its military cooperation with Israel and that the Elbit Systems plant, the largest producer of equipment for drones be permanently closed.
"If our leaders are supporting crimes against humanity, it is up to the civil society to act," they declared in a press release.
It is these drones, added the statement, which were tested by massacring Palestinians, that the British government buys. Prime Minister David Cameron has Palestinian blood on his hands and it is urgent that he ceases to encourage the occupation, apartheid and the Israeli colonialism by declaring an immediate arms embargo on Israel, starting with these drones that are a key element of the Israeli death arsenal.
Based on its findings, the Russell Tribunal called in particular the global civil society "to show solidarity with activists whose actions aim to shut down accomplice crime companies against the Palestinians such as Elbit Systems in the UK."
On 20th of November 2014, seven Dutch organizations and some 50 activists launched a protest against the arms exhibition in Rotterdam and in particular against Elbit who amassed huge profits following the war in Gaza. They asked to suspend all military cooperation with Israel and to cancel the maintenance contract for the Dutch army, signed with this company last May.
Among the consequences and actions that the Russell Tribunal has made to the attention of the European Union is the adoption of the following restrictive measures
– Suspend the EU-Israel Association agreement (article 2 of which commits both parties to respect human rights)
– Suspend the scientific cooperation agreement between the EU and Israel and to immediately cease all cooperation with Israeli military companies
– Impose a complete arms embargo on Israel, including a ban on sale, supply, transfer or export of arms and related material to the armament;
– Suspend imports of all military equipment from Israel.
In Luxembourg, the CPJPO has sent a letter to its government asking it to also commit to a cessation of all military cooperation with Israel pursuant to the Common Position of 2008.
Europe should finally meet its own laws!
Jean Feyder – former Ambassador of Luxembourg to the UN
(1) Board Member of CPJPO Luxembourg
(2) http://tribunalrussell-France.over-blog.org
(3) Ibid