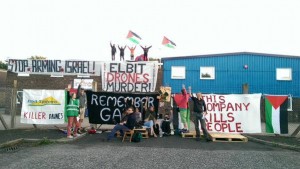 In the UK, more than 150 activists blockaded the UAV Engines Limited factory in Shenstone, Staffordshire. UAV is a subsidiary of Elbit, and has been reported by Amnesty International to have supplied engines for drones that have been used by Israel during attacks on Gaza. Two other Elbit owned arms factories in the UK – Elite KL in Tamworth, Staffordshire and Instro Precision in Broadstairs, Kent – were also shut down by activists who occupied factory rooftops. In Australia, activists closed down an Elbit subsidiary in the southern city of Melbourne.
Elbit company is deeply complicit in Israel's war crimes in Gaza. A report called "Arming Apartheid," released last week by the Campaign Against the Arms Trade, War on Want and the Palestine Solidarity Campaign, found that fresh arms exports to Israel worth nearly £4 million ($6.2 million) – including components for drones – were approved by Britain within weeks of the attack.
Last summer in Gaza Israel killed more than 2,200 Palestinians including 551 children. The 2014 assault, which Israel code named "Operation Protective Edge," also left approximately 11,000 people injured, including 1,000 children left with permanent disabilities. An estimated 18,000 homes were destroyed or severely damaged, making 100,000 people homeless.
The action was organised to commemorate the first anniversary of Israel's 2014 bombardment of Gaza, and also in the week that marks 10 years since the founding of the Palestinian-led BDS campaign