Hundreds of people took part in a protest on Monday, December 11th, outside the European Council building in Brussels where EU Foreign Affairs Ministers were hosting Israeli Prime Minister Benyamin Natanyahu. More then 40 organisations have joined the call to demonstrate "against the Israeli policy of occupation and colonization of Palestine." Protesters described Netanyahu as a war criminal who should be tried at the International Criminal Court.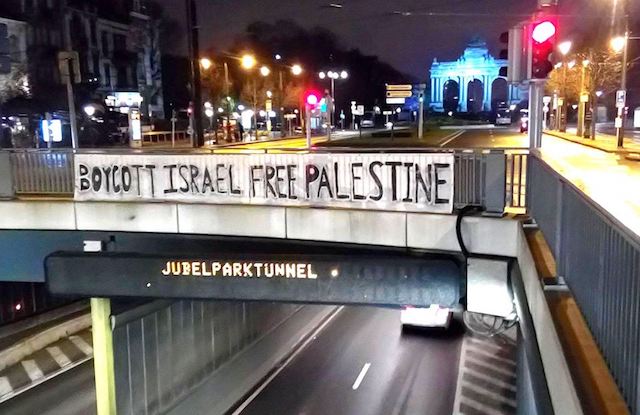 Activists also placed banners on bridges and tunnels of Brussels carrying the message "Free Palestine" and "Netanyahu Wanted – For War Crimes".
It is a first time in 22 years that the EU is hosting an Israeli Prime Minister. The protesters called on the European Union and its member states to show its commitment to human rights and democratic principles by applying restrictive measures on Israel, including by suspending the EU-Israel Association Agreement.
In addition Members of the European Parliament have written to the EU foreign policy chief Federica Mogherini reminding her of longstanding European Parliament demands in relation to Israel's international obligations, ahead of an informal meeting with Prime Minister Benjamin Netanyahu on Monday.
The letter asks that European Foreign Affairs Ministers press Israel on violations of human rights against Palestinians such as the practice of administrative detention, systematic expulsions of Palestinian communities and the blockade of Gaza.
The full text of the letter can be found here.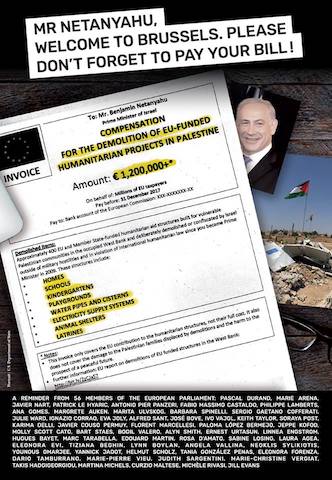 MEPs also hang posters in European Parliament halls presenting a bill 'on behalf of millions of EU taxpayers' demanding that Israel repay EU funds spent on Palestinian facilities that were thereafter demolished by Israel.