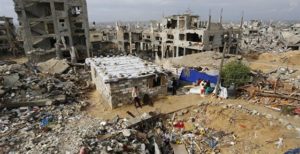 Dozens of aid agencies have called for international sanctions on Israel over its continued illegal blockade of the occupied Gaza Strip and the fact that six months after its deadly and devastating assault, there has been virtually no reconstruction in the territory.
The report, "Charting a New Course: Overcoming the stalemate in Gaza," signed by 46 international nongovernmental organizations working in Palestine, says that Israel must lift the blockade and allow free movement between the occupied West Bank and Gaza Strip or face punitive consequences.
The report's signatories, including Oxfam, Save the Children, KinderUSA, Medical Aid for Palestinians, The Carter Center, Norwegian People's Aid and Médecins du Monde Switzerland, also call for a suspension of arms transfers to Israel and revocation of arms export licenses.
The report advocates that "Israel's illegal policies need to be challenged with practical measures."
Among the measures the aid agencies propose:
Making EU and other international relations with Israel conditional on it meetings its legal obligations, including using the EU-Israel Association Agreement as a form of pressure.

Ensuring that companies that violate international law in the occupied West Bank and Gaza do not financially benefit from the reconstruction of Gaza. States should "issue clear guidance to national companies, including state-owned companies and pension and investment funds, to ensure they not only respect international law in their own activities but do not invest in companies involved in violations of international law."

"Where arms and ammunition could be used to commit or facilitate violations of [international humanitarian law], the Arms Trade Treaty (ATT), which all contributors at the Cairo donor conference have at least signed (if not ratified), obliges state parties to suspend transfers and consider revoking licenses to the parties concerned."
Read the full report here
More at Electronic Intifada