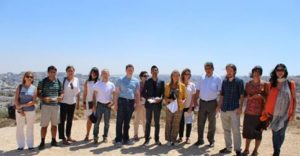 A delegation of 13 GUE/NGL MEPS arrived on Thursday – September 4th in Palestine for the beginning of a 4-day visit. They met with Rabbis for Human Rights, Other Voice, the Public Committee against Torture, Refuseniks, Families Forum, Combatants for Peace, and the Communist Party of Israel yesterday morning in Jerusalem. They also spoke with renowned Haaretz journalist Amira Hass, before getting a feel for the division and occupation of Jerusalem first hand. During the course of the next days they are going to meet with representatives of PLO and Palestinian civil society organisations.
The Group had planned to visit Gaza but the Israeli government refused to grant them entry. Speaking from Jerusalem, Ms Anderson said: "The Israeli government refused us, 13 MEPs from six countries, entry into Gaza on the grounds that our visit to the region is 'not directly concerned with the provision of humanitarian assistance'."
On their first full day in Palestine, GUE/NGL MEPs heard continued calls for a radical shift in how the international community acts when it comes to the plight of the Palestinian people.
GUE/NGL MEP Martina Anderson said: "From our meetings with both peace organisations and Palestine Liberation Organization representatives what we heard was a clear call for the international community to realise that the negotiations are over. Israel enters into the negotiations but then carries out deadly military attacks and land grabs – a direct contradiction with the peace it claims to want to work towards. Rather than continuing their support for talks, world leaders should be loudly denouncing the Israeli occupation of Palestine for what it is, the deliberate and systematic extermination of Palestinians from their land, nothing short of social genocide. (…)
GUE/NGL MEP Neoklis Sylikiotis said "On our first day in Palestine we saw first-hand how Israel attempts to keep polarizing society along religious lines. They use settlers to change the demography of the town and turn it into a city only for Jews. But Jerusalem is a shared space, as was agreed in 2003 – it should be a city for people of all and no faith. The EU and the international community should act in such a way to stop these settlements."
MEPs taking part in the delegation (alphabetical):
Martina Anderson-  Sinn Fein, Ireland
Lynn Boylan – Sinn Fein, Ireland
Matt Carthy – Sinn Fein, Ireland
Takin Hadjigeorgiou -AKEL, Cyprus
Pablo Iglesias – PODEMOS, Spain
Iosu Juaristi – Bildu, Basque Country
Marisa Matias – Bloco, Portugal
Younous Omarjee– Front de Gauche, France
Teresa Rodriguez – PODEMOS, Spain

Lola Sanchez – PODEMOS, Spain
Neoklis Silikyotis – AKEL, Cyprus
Angela Vallina  – Izquierda Plural, Spain
Miguel Viegas – Portuguese Communist Party
source: http://guengl.eu