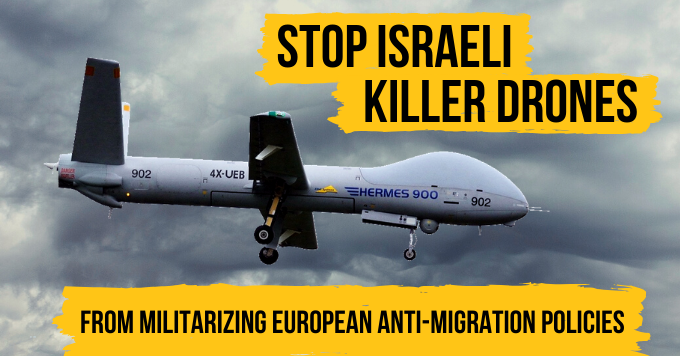 Today, on Palestinian Land Day and anniversary of the start of the Great March of Return demonstrations in Gaza, a European coalition of NGO's, trade unions and migrants organisations is launching a petition to stop Israeli drones from intensifying the EU's border militarisation.
Since November 2018, the European Maritime Safety Agency (EMSA) is contracting, through the Portuguese company CeiiA, two Hermes 900 drones – manufactured by the largest Israeli military company Elbit Systems. The contract has two single year option periods with a total value of 59 million EUR. Eblit's drones are assisting Frontex and national authorities in Greece, where the EU is facing refugees and migrants with increased militarised violence.
Elbit Systems is developing its drones in collaboration with the Israeli army and promoting its technology as "battle-tested"– meaning that it has been used against the Palestinians. The company provides 85% of the drones used by the Israeli military in its attacks on Gaza. Hermes drones killed the four children playing on the beach during Israel's attack on Gaza in 2014. These drones can kill but cannot save lives.
Take action now!
Ask the European Union to stop using Israeli killer drones for its borders militarisation by signing this petition https://petition.stopthewall.org
Read our full briefing in EN/ FR/ DE/ IT