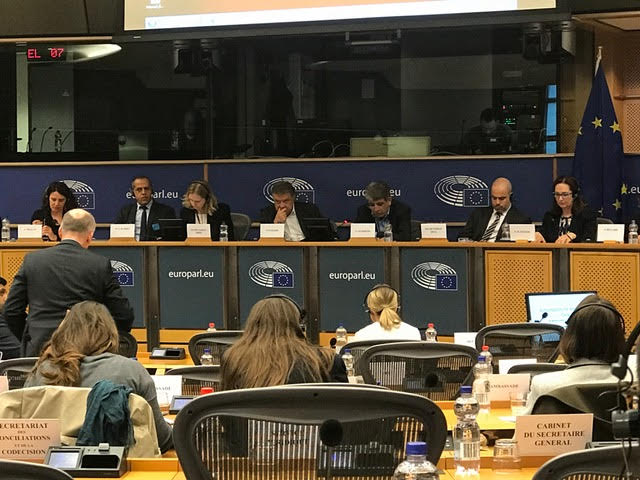 On April 26th, the Subcommittee on Human Rights and Delegation for Relations with Palestine hosted a joint hearing about the current situation in the Gaza Strip at the European Parliament in Brussels. Thematic framework focused on criminal responsibility, universal jurisdiction and the EU's complicity in the case of Gaza Strip with participation of Prof John Dugard (Former Special Rapporteur on the Situation of Human Rights in the Occupied Palestinian Territory), Mahmoud Abu Rahma (Al Mezan Center for Human Rights in Gaza Strip), Dr Aimee Shalan (Medical Aid for Palestinians) and Col Desmond Travers (Member of the United Nations Fact Finding Mission on the Gaza Conflict and co-author of the Goldstone Report) among others.
In his opening presentation, Prof John Dugard gave an overview of international mechanisms to secure the accountability of Israel for its international crimes and human rights violations and European failure to use them.
"It is a given that war crimes and crimes against humanity have been committed in Operation Cast Lead (1,434 killed), Operation Protective Edge (2,200 killed) and the Great March of Return (underway). EU states have international mechanisms at their disposal to hold Israel accountable for its crimes in the OPT in general and Gaza in particular but they refuse to use them. In doing so they display a lack of courage which has rendered them complicit in Israel's crimes. " – Prof Dugard said.

"EU states should have the courage to acknowledge that Israel practices apartheid in the OPT" – he added.
Prof Dugard mentioned also that the state of Israel with help of some European countries is trying to extend the definition of Antisemitism, that would cover not only hatred towards Jews but also criticism of the state of Israel and its policies in the OPT.
"That's why European governments and the EU are so reluctant in confronting Israel on the subject of apartheid. Let's be frank – we all know that Israel is practising apartheid in the OPT" – he added.
Dr Aimee Shalan from Medical Aid for Palestinians focused on the devastating effect of the closure of Gaza to its economy and the health sector. She described that since the end of March till April 21 at least 77 health personal workers have been wounded and 14 ambulances have been damaged according to Gaza's Health Ministry.
Dr Shalan also presented a following statement from a doctor on the ground in Gaza describing the recent killings and use of weapon by Israel:
"The bullets used according to the local medics, are the type they have not seen since 2014. The entrance wound is small, the exit wound is devastating. All patients need implants for both orthopedic and plastic surge if these limbs have to be salvaged – Gaza does not have this capacity. This is leaving patients with neglected, contaminated wounds, exposed bonds, despite the local stuff doing their best. This is all on top of new wave of Friday protesters being admitted with the same injuries. This would overwhelm any European hospital, be classified as a major incident, let alone a local hospital in Gaza with a shortage of medicine and manpower for this kind of injury. This is happening every Friday".
Dr Shalan on behalf of MAP also called for an independent and transparent investigation having review of weather a sniper riffles life munition or lethal weapons being manufactured or sold to Israel are being used in human rights violations as well as for the protection of medical personnel and facilities.
Col Desmond Travers referred in his presentation to the recent conflicts that are taking place in Gaza's buffer zones. He stressed that the incidents that have occurred along the buffer zones, or "fire free zones" that comprise of 20% of Gaza's territory are not new and have their origins in military operation "Cast Lead" that took place at the end 2008/2009. Col Travers explained how through its military attacks Israel realised its strategic purpose to degrade the infrastructure of Gaza (e.g blowing up the last flour mill, damaging the sewage system). He added that coincidental with those military operations was a closure down of a maritime area allocated to Gaza which extents now to 22 nautical miles and absorbs gas resources and stressed that no importation of gas from this region should have come when at least one part of that region is deprived access to its own gas.
Mahmoud Abu Rahma from Al Mezan Center in the Gaza Strip made an argument that there is an urgent need for the intervention of international mechanisms described by Prof Dugard in his presentation as domestic mechanisms are not working. Since 2009 Al Mezan has put hundreds of complaints into the Israeli justice system without any results. He also underlined that by the time of this hearing at the European Parliament 37 Palestinians have been killed during Great Return March protests and focused on the obligations and duties of the European governments to investigate Israel's crimes.
Members of the European Parliament attending the hearing expressed their concerns towards Israel's impunity and ongoing violations of international law and Palestinian human rights. MEP Antioni Panzeri, chair of Subcommittee on Human Rights together with MEP Neoklis Sylikotis, chair of the Parliamentary Delegation for Relations with Palestine pledged to issue a joint report concerning the current situation in the Gaza Strip and launch a joint delegation.
Here you can watch the whole session.
Read the recommendations towards the EU concerning the situation in the Gaza Strip HERE