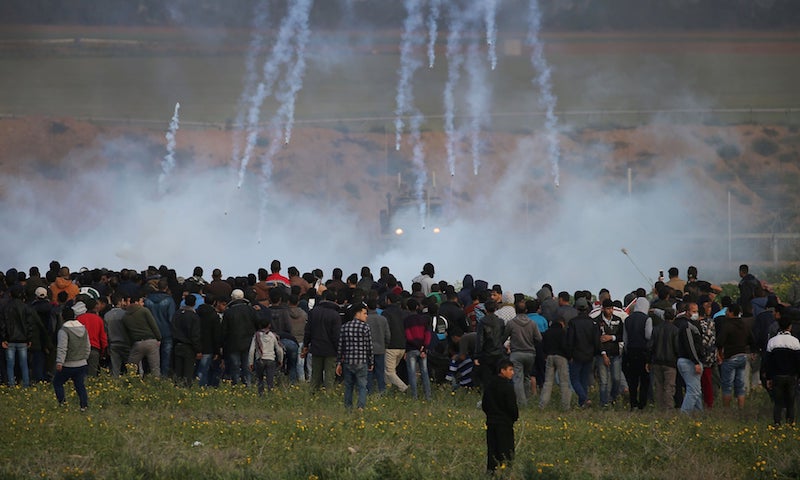 Israeli forces may have committed war crimes and crimes against humanity by using lethal military force against unarmed protesters in Gaza, a United Nations independent commission of inquiry has found.
"Israeli security forces committed serious violations of human rights and international humanitarian law," Santiago Canton, the head of the commission, stated on Thursday.
"These violations clearly warrant criminal investigation and prosecution," he added.
"[Israeli forces] have intentionally shot children, they've intentionally shot people with disabilities, they've intentionally shot journalists, knowing them to be children, people with disabilities and journalists," Sara Hossain, one of the other three investigators appointed by the UN Human Rights Council, said.
The commission, formed after more than 60 people were killed in a single day of protests last May, was tasked with identifying those responsible for rights violations in relation to the Great March of Return demonstrations along Gaza's eastern boundary.
Israel has refused to cooperate with the UN investigators and denied them entry to the country. The investigators were prevented by Egypt from accessing Gaza through its territory due to security concerns, but has otherwise cooperated, according to the commission report.
The US, which was one of only two countries who voted against the commission's formation, withdrew from the UN body in protest.
The commission's report calls on Israel to immediately lift its blockade on Gaza – one of the key demands of the Great March of Return – and to investigate "every protest-related killing and injury, promptly, impartially and independently."
A confidential file containing dossiers of alleged perpetrators of international crimes related to the Great March of Return will be handed over to the High Commissioner for Human Rights so that it can be transferred to the International Criminal Court.
Recognising that Palestinians in Gaza are barred from seeking remedy in Israeli courts, the inquiry report recommends that UN member states "consider imposing individual sanctions, such as a travel ban or an assets freeze, on those identified as responsible by the commission."
The report also calls on third states to arrest "persons alleged to have committed, or who ordered to have committed, the international crimes," or seek their extradition. 
Nearly 200 unarmed demonstrators were killed, and 6,100 more injured, by military snipers, between the launch of the Great March of Return protests on 30 March and 31 December 2018, the period under review by the UN investigators.
"Another 3,098 Palestinians were injured by bullet fragmentation, rubber-coated metal bullets or by hits from tear gas canisters," according to the commission report.