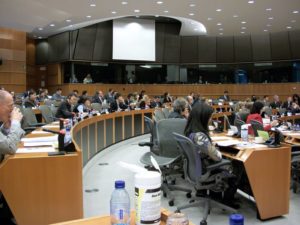 In a letter sent to EU foreign policy chief Catherine Ashton, 51 members of European Parliament have called for full implementation of new  EU guidelines slated to take effect on January 1.
The guidelines forbid any EU grants being awarded to Israeli projects in occupied Palestinian territory and prevent loans or prizes to being given to Israeli entities with operations in the West Bank, Golan Heights or East Jerusalem. They also require any new agreement with Israel to state that these areas aren't part of Israel, and therefore aren't covered by the agreement.
In their letter MEP`s stated that:
"We understand that negotiations on Israel's participation in Horizon 2020 are underway, and we note that you are reported as saying you hope to find ways to implement the new guidelines "sensitively". We have read that US Secretary of State John Kerry is pressuring the EU to repeal the new guidelines.
We call on you to implement the guidelines in full as we oppose the Israeli settlements in the Occupied Palestinian Territories, which are illegal under the Fourth Geneva Convention. Israel's occupation of Palestine and the Israeli government's policy of establishing settlements in the Occupied Palestinian Territories have been condemned on numerous occasions by the UN Security Council and the International Court of Justice".
In their letter 51 Members of European Parliament stated that "as confirmed by a 2004 ruling of the International Court of Justice, the EU is under a legal obligation not to render aid or assistance to Israeli violations of international law, including illegal settlements in occupied Palestinian territory"
They also reminded that the new guidelines make clear that EU funding for Israeli projects and bodies located in occupied Palestinian territory amounts to a violation of the EU's obligations under international law " Any decision not to implement the new guidelines fully would amount to a decision to ignore international law. We feel strongly that Israeli settlements should not benefit from European taxpayers' money and request you to ensure that the guidelines are fully implemented."
You can read the full letter here