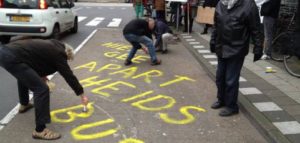 The Haarlem provincial government in the Netherlands has decided not to award a 10 years public transport contract to EBS, owned entirely by the Israeli company Egged Cooperative Israel.
Haarlem is a city and municipality in northern Holland with a population of over 155,000.
The company, which is  complicit in Israel's violations of international law in the Occupied Palestinian Territories has lost the 320 million euro contract. In December 2014 the BPP (Broad Platform for Palestine in Haarlem) conducted extensive action against the possible arrival of EBS.
In December, BPP painted the text "No place for apartheid in the bus" at the bus station in the Tempelierstraat . It also addressed the Provincial Committee chaired by the Commissioner at the Provincial house. The action was supported by a petition which fetched 500 signatures within a week. The OECD standards and the UN Guiding Principles on Business and Human Rights (UNGPs) were a major theme in the campaign. These guidelines, to which the Netherlands is bound, require that companies and governments become informed of possible human rights violations in the chain of companies they do business with. Such violations should not be tolerated. BPP shared an extensive document on this issue with the Committee.
EBS' parent company EGGED is guilty of operating buses that are inaccessible to Palestinians, thus implementing a system of apartheid. Moreover EGGED profits from its bus lines to the illegal settlements. These serious violations of the above guidelines would have become a liability to the Provincial Government.
BPP's campaign is part of the global campaign for Boycott, Divestment and Sanctions.
Egged Europe currently operates in Bulgaria, Poland and the Netherlands. In 2010 Egged won a tender for transportation services to greater Amsterdam and municipalities north of the capital. The service operates through a wholly-owned Dutch subsidiary, EBS. EBS has an agreement with the Amsterdam Municipality for eight years, with an option to extend to ten.