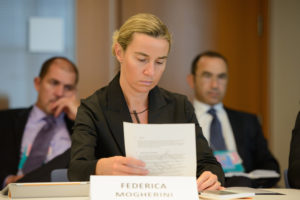 A high-profile group of former European political leaders and diplomats have called for the urgent reassessment of EU policy on the question of a Palestinian state and has insisted Israel must be held to account for its actions in the occupied territories.
In a letter sent to the EU's foreign policy chief, Federica Mogherini, the group – which includes former prime ministers, foreign ministers and ambassadors also expresses serious doubts about the ability of the US to lead substantive negotiations between Israelis and Palestinians.
It charges that EU political and financial aid has achieved nothing but the "preservation of the Israeli occupation of the West Bank and imprisonment of Gaza".
The group, known as the European Eminent Persons Group, argues that the re-election of prime minister Binyamin Netanyahu at the head of a narrow rightwing coalition has made the issue even more pressing.
The signatories include Hubert Védrine and Roland Dumas, former foreign ministers of France, Andreas van Agt, former prime minister of the Netherlands, John Bruton, a former prime minister of Ireland, Michel Rocard, former prime minister of France, Javier Solana, former Nato secretary general and Sir Jeremy Greenstock, former UK ambassador to the UN.
This call follows the report to Mogherini sent by 16 EU foreign ministers on 13 April 2015 that calls for the EU-wide introduction of guidelines for correct labelling of settlement products. Supporting this initiative, the authors of the letter go further, calling for "tougher measures to contain [Israeli] settlement expansion and steps to operationalise the EU's policy of non-recognition of Israeli sovereignty beyond the 1967 borders across the full range of EU-Israeli relations"
Linking the call explicitly to the re-election of Netanyahu, the letter reads: "The re-election of Binyamin Netanyahu as Israeli prime minister and the construction of a new Israeli coalition government now requires urgent action by the EU to construct a coherent and effective policy on the question of Palestine.
In January this year a group of 63 MEPs (Members of the European Parliament) have called on EU foreign policy chief Federica Mogherini to suspend the EU-Israel Association Agreement, the main treaty between the EU and Israel. The unique cross-party initiative was the first time so many MEPs have called for such tough measures against Israel since its massacre of more than 2,300 Palestinians in Gaza last summer. And in December last year more than 300 human rights groups, trade unions and political parties from across Europe have called for the EU to hold Israel accountable by suspending the EU-Israel Association Agreement, the main treaty between the EU and Israel.
Read the full letter by the European Eminent Persons Group here