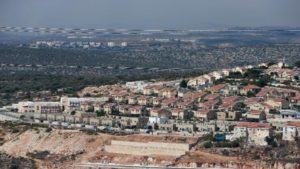 On Thursday, April 16th – The foreign ministers from 16 out of 28 European Union countries sent a letter to EU foreign policy chief Federica Mogherini asking her to push forward the process of labeling settlement products.
The letter was signed by the foreign ministers of France, Britain, Spain, Italy, Belgium, Sweden, Malta, Austria, Ireland, Portugal, Slovenia, Hungary, Finland, Denmark, The Netherlands and Luxembourg.
"We would like to draw your attention to the letter dated 13th April 2013 sent to your predecessor on EU wide guidelines on the labeling of settlement produce/products," reads the letter "…We remain of the view that this is an important step in the full implementation of EU longstanding policy, in relation to the preservation of the two-state solution."
"The continued expansion of Israeli illegal settlements in the Occupied Palestinian Territory, and other territories occupied by Israel since 1967, threatens the prospect of a just and final peace agreement," the letter reads.
The ministers argue that such labeling of settlement goods is necessary to prevent consumers from bring "misled by false information."
The effort to advance EU guidelines or labeling settlement products across the continent began several years ago. In April 2103, the foreign ministers of 13 EU countries sent a similar letter to Mogherini's predecessor, Catherine Ashton that began pushing the initiative forward, but put it on hold in the summer of 2013 at the request of U.S. Secretary of State John Kerry who was trying to restart Israeli-Palestinian peace talks
Last year 19 EU member states have issued guidance to private business that warn businesses about the economic, legal and reputational "risks" of economic ties with illegal Israeli settlements and state that firms should be aware of the "possible abuses of the rights of individuals"
The EU should take concrete and effective measures to meet its legal obligations and end its complicity with Israeli violations of international law by banning all trade with illegal Israeli settlements, ensuring European companies stop participating in any Israeli project in the OPT, and imposing arms embargo on Israel. Accordingly the main framework for EU-Israeli economic and military cooperation – the EU-Israel Association Agreement and Horizon 2020 Research Programme must be frozen.