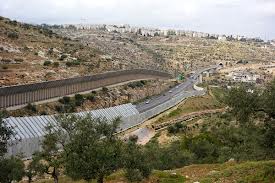 Association of International Development Agencies criticized the European Union over falling short on its promise to Palestinians about preventing expansion of Israeli settlements and urged it to match its words with action in order to effectively challenge Israeli government policies .
In a report released on May 27, 2013, the Association of International Development Agencies (AIDA), a coordinating body representing over 80 international aid and development agencies working in the occupied Palestinian territory, have urged the EU to "match their strong words with action in order to effectively challenge Israeli government policies."
These policies are creating "unbearable conditions" in Area C, which is home to some of the most vulnerable Palestinian communities who are isolated from services provided by the Palestinian Authority in other parts of the West Bank, says the report. Palestinians living in that area rely heavily on humanitarian assistance.
According to AIDA, "chances for a just and durable solution that allows Palestinians and Israelis to live with peace and security were slipping away as the situation on the ground continues to deteriorate."
On May 14, 2012, at the end of the meeting of the EU's Foreign Affairs Council, the 27 EU foreign ministers adopted conclusions considered some of the strongest ever made against Israeli policies in the territories.
The report points out that more than 600 houses have been built in the past year in the illegal Israeli settlements while 535 Palestinian-owned homes and structures have been destroyed, leaving 784 people homeless or displaced.
Around 30 European-funded structures have been demolished during this same time and dozens more, including basic tents, water cisterns and animal pens are under threat of demolition.
The report "Failing to Make the Grade: How the EU can pass its own test and work to improve the lives of Palestinians in Area C," explains what they can and must do to put their words into action.
"A year after all 27 EU countries committed to challenging settlement expansion, forced displacement, and demolition of Palestinian property in an unprecedented Foreign Affairs Council statement, approvals for illegal settlements have increased and hundreds of Palestinian homes and structures have been bulldozed despite the EU saying this must stop,"  – we can read in the report.
The report stresses that the EU must honor its pledges to increase much-needed development aid for Area C and to push the Israeli government to remove restrictions that leave Palestinians vulnerable to demolition and prevent them from building proper homes, schools, roads, water infrastructure and electrical grids.
Download the full report here