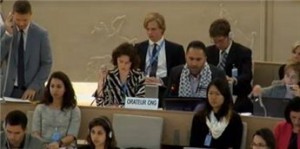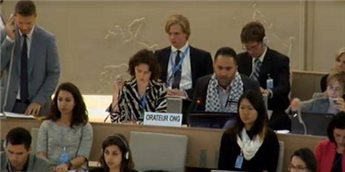 Issa Amro – a human rights activist from Hebron on Monday discussed the plight of Palestinian prisoners at the UN Human Rights Council in Geneva.
"I was detained 20 times in 2012 alone despite the fact that I am a human rights activist and non-violence advocate," Amro told the council.
Issa is a prominent human rights defender and founding member of many non-violent organisations in Hebron (e.g Youth against settlements) who work peacefully against Israeli occupation of the West Bank.  He won the One World media award in 2009 for his involvement in B'Tselem's "Shooting Back" project, which provides media training and distributes cameras to Palestinians to document settler and military abuse. Issa Amro's work with these organisations, amongst others, led to his winning the UN OHCHR 'Human Rights Defender of the Year in Palestine' award in 2010
Amro was invited to speak by UN Special Rapporteur Richard Falk and addressed the council as well as representatives of dozens of international human rights groups.
He discussed the oppression and humiliation Palestinian prisoners face in Israeli custody, and spoke about Israeli efforts to force Palestinians from Hebron and replace them with Jewish settlers.
Amro highlighted that Israel plans to bring over 1,000 settler families to live in the heart of the West Bank city, and noted Israel's closure of Shuhada Street, which housed over 1,800 shops.
The activist urged the international community to impose sanctions on Israel over its ongoing violations of international law.
Watch UN Human Rights Council meeting here