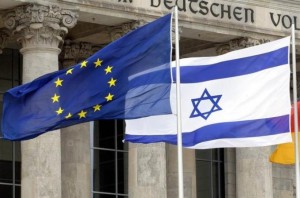 Last month, organisations and activists across Europe took action together to persuade the International Trade Committee of the European Parliament to block a new trade protocol with Israel. Thousands of people signed petitions and hundreds more wrote to their MEPs. The vote was very close and if just one more MEPs had voted with us, the agreement would have been blocked.
The agreement still has to be approved by a full vote of the European Parliament that will take place on October 23. If passed, the Agreement on Conformity Assessment and Acceptance of Industrial Products (ACAA) would remove barriers to trade between Israel and member states in industrial products, especially pharmaceuticals. The vote is likely to be close.
Such an agreement would strengthen EU-Israel relations and would reward Israel for its continued violations of international law.
The European Coordination of Committees and Associations for Palestine (ECCP) is asking supporters of Palestinian rights that are citizens or resident in the EU to write to their MEP urging them to vote against the new agreement.
Other actions to consider taking:
Spreading this call for action through your networks and on social networking sites
Asking associations, NGOs and unions that you are a member of to write to MEPs
Publishing articles and opinion pieces