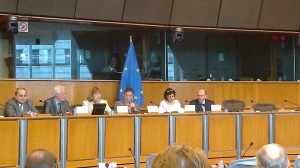 On April 1st Rania Madi, legal UN consultant for Badil Resource Center for Palestinian Residency and Refugee Rights discussed the issue of Palestinian refugees in the European Parliament.
In the aftermath of the 1948 , a special regime for assistance, protection and reparations was set up for Palestinian refugees. The regime was initially composed of the UN Conciliation Commission for Palestine (UNCCP) and the UN Relief and Works Agency in the Near East (UNRWA) and eventually included the UN High Commissioner for Refugees (UNHCR).
The UNCCP was mandated to provide protection to Palestinian refugees, including the search for durable solutions and reparations, but failed and effectively ceased to operate in the mid-1950s. UNRWA is mandated to provide assistance to 1948 and, on an emergency and temporary basis, 1967 Palestinian refugees and to those displaced as a result of subsequent hostilities. Although UNRWA haas enhanced its protection activities by means of a rights-based approach to assistance and emergency operations, there remains a lack of protection for Palestinian refugees, especially for those living in UNRWA's area of operation (Lebanon, Syria, Jordan and the OPT).
Rania highlighted the fact that UNRWA faces many difficulties in implementing its mandate due to funding shortages and armed conflicts in the region, in particular Israel's military occupation. Outside UNRWA's area of operations, UNHCR is the international agency responsible for providing both assistance and protection to Palestinian refugees. She pointed out that Palestinian refugees are often denied the rights guaranteed under the 1951 Refugee Convention when they seek asylum. National protection of 1948 and 1967 Palestinian refugees in particular has been ineffective as a result of non-application or misinterpretation of Article 1D of the 1951 Refugee Convention by national authorities and courts.
In her presentation Rania informed Members of the European Parliament that no international agency has a mandate to provide assistance and protection for internally displaced Palestinians in Israel. In the OPT, UNRWA and other international organizations may provide limited temporary emergency assistance to some IDPs but no comprehensive and predictable response exists. No international agency, moreover, is searching for comprehensive durable solutions, including reparations, for Palestinian refugees. UNHCR and UNRWA believe that the search for durable solutions should be undertaken by parties to the conflict.
Unlike most refugees and displaced persons, who usually seek protection against refoulement (forcible return), the primary problem facing Palestinian refugees is Israel's denial of their right to reparations, including return, to their homes of origin. Although this right is enshrined in international law and affirmed by many UN resolutions, in particular UN resolutions 194 (1948) and 237 (1967), it has not been enforced. Displaced Palestinians have no access to courts that could provide effective remedies and reparations.