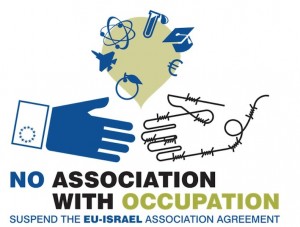 A group of 63 influential MEPs have called on EU foreign policy chief Federica Mogherini to suspend the EU-Israel Association Agreement, the main treaty between the EU and Israel.
The unique cross-party initiative is the first time so many MEPs have called for such tough measures against Israel since its massacre of more than 2,300 Palestinians in Gaza last summer.
"Amnesty International and Palestinian organisations have documented that Israel deliberately targeted civilians and committed other war crimes during its recent onslaught against Palestinians in Gaza. These are serious violations of international law and international humanitarian law that cannot be tolerated," the MEPs from the 5 biggest parties in the European Parliament stated.
"We call on the Commission to consider the suspension of Association Agreement with Israel unless Israel takes substantial and immediate steps to bring its conduct in line with international law," the MEPs demand.
The letter echoes an appeal made in November by more than 300 human rights groups, trade unions and political parties from across Europe, who wrote to Mogherini to demand the suspension of the EU-Israel Association Agreement.
The EU-Israel Association Agreement, which entered into force in 2000, facilitates largely unrestricted trade between the EU and Israel and allows Israel to participate in a wide range of the Union's programs.
"Furthermore, the EU's lack of substantial action with regards to Israel appears out of step with the speed at which it has implemented restrictive measures on Russia with regards to the Ukraine crisis in recent months, as well as the restrictive measures implemented against more than 30 other countries," the letter adds.
The EU has issued some of its strongest ever criticisms of Israel since its latest attack on Gaza but is yet to take any substantial measures to hold it to account, although it is understood the EU is currently not willing to upgrade relations with Israel in any way.
In June 2013 the EU announced a ban on its funds being awarded to illegal Israeli settlements, and in 2014 it coordinated member states to issue a statement warning businesses about the legal and political risks associated with doing business in illegal Israeli settlements.
Campaigners say these steps are welcome but that tougher steps such as a ban on economic relations with illegal Israeli settlements and a ban on arms exports to Israel are needed to apply real pressure on Israel to comply with international law.
In September last year Palestinian civil society organisations wrote to former EU foreign policy chief Catherine Ashton to demand the suspension of the EU-Israel association agreement, arguing that "Israel's war crimes and its sabotage of every effort to reach a just peace based on UN resolutions must lead to effective and substantial, not just cosmetic, consequences."
Read the full letter here