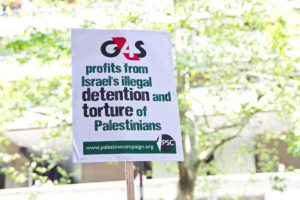 Prolonged international pressure seems to have had an impact on the world's largest security company G4S. The company's Chief Executive Officer Ashley Almanza has said it will not renew security contracts with Israeli prisons and checkpoints. The announcement was made after Almanza's first meeting with the company's shareholders on the fifth of June. 
G4S maintains it is not complicit in any Israeli human rights violations. Almanza told the Financial Times, "We do not operate prisons, we supply prisons with security equipment." However, after the current contracts end, the company has said it will not be renewing them. 
The move follows divestment from the company by the Bill and Melinda Gates Foundation. The charity owned by the richest man in the world and his wife had a 3.2 percent share in the company, worth 135.5 million Euros. The foundation states on it's website that it seeks to understand the world's inequities, and bring about the kind of changes that will help people lead healthier and more productive lives. In the past year the foundation faced a lot of criticism for it's investment in G4S.
Mustafa Barghouti, General Secretary of the Palestinian National Initiative, welcomed the decision by the Bill and Melinda Gates Foundation. He called it a gift for the Palestinian prisoners, especially the ones currently on hunger strike. "The Gates Foundation's divestment from G4S sends a strong message to them that their struggle is having an impact on global opinion."
Besides facing divestment by the Bill and Melinda Gates Foundation, many other charities, as well as universities and banks throughout Europe have sold their shares in G4S. This may have led the company to believe that getting out of their contracts and no longer participating in Israel's occupation policy is, if not morally, then at least financially the right thing to do.
Furthermore, public figures from all over the world have called on the company to stop securing Israel's prisons. In a letter published in the Guardian newspaper in the past week, just before G4S's annual shareholder meeting, a number of prominent world citizens aired their concerns regarding the policy of the company. Among the people to sign the letter were Archbishop Desmond Tutu and American philosopher and activist Noam Chomsky. Lawyers for Palestinian Human Rights filed a separate complaint against G4S.
Among activists and campaigners against G4S's involvement in Israel the announcement by the company has been met with both careful optimism and skepticism. The company's contracts are not set to expire for between one and three years, and only when they do will it be clear how reliable this promise is. Both the Palestine Solidarity Campaign and the Addameer Prison Support and Human Rights Association have stated that pressure on G4S should continue until the G4S actually ends it's complicity with Israeli human rights violations.
source: Palestine Monitor