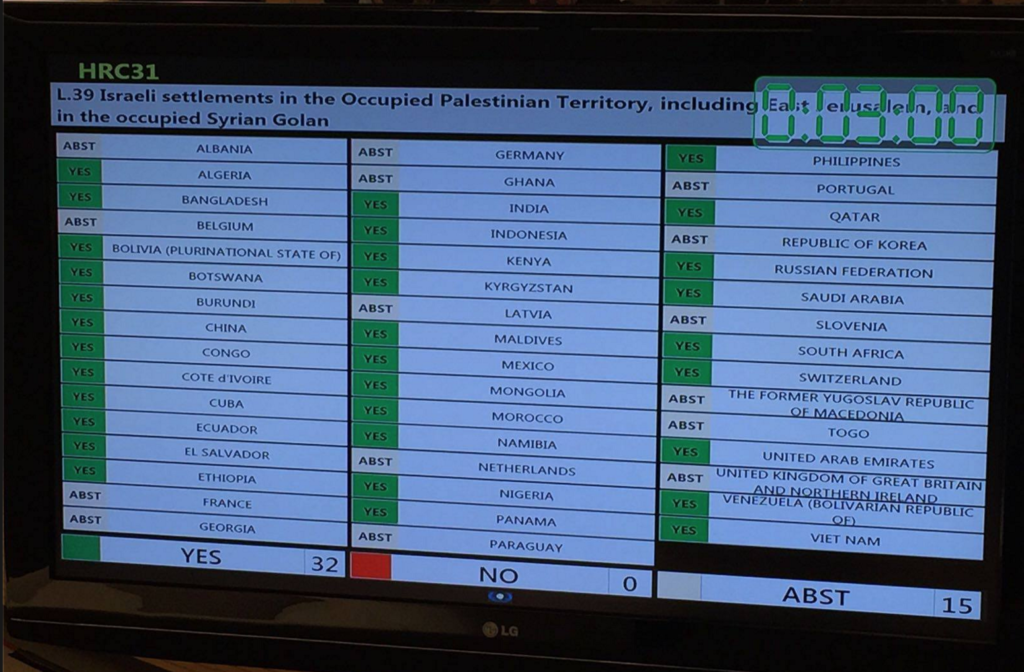 On March 24th the UN Human Rights Council has voted "to produce a database of all business enterprises" that operate in illegal Israeli settlements.
The resolution passed with 32 votes in favour and 15 abstentions.
The Council also decried specific Israeli practices it outlined as "undermining" the status quo between the parities including a recent large land confiscation in the West Bank and settlement construction in Area E1—a land corridor where settlements would sever the territorial continuity of the West bank.
Welcoming the news, Riya Hassan, Europe Campaigns Officer for the Palestinian BDS National Committee, the broadest coalition of Palestinian organisations that leads and supports the BDS movement, said:
"By voting to establish this database, this resolution supports the view of the the BDS movement that companies must be held to account for their participation in Israeli violations of Palestinian human rights and international law."
"Just as at the height of the boycott of South Africa, the BDS movement is successfully persuading international companies to end their support for Israel's crimes and we are starting to notice a domino effect."
French multinationals Veolia and Orange and CRH, Ireland's biggest company, have all exited the Israeli market in recent months, mainly as a result of BDS campaigning.
According to the UN's trade and development agency UNCTAD, Foreign direct investment in Israel dropped by 46% in 2014 as compared to 2013, partially due to the impressive growth of the BDS impact, as stated by one of the report's authors.
In January 2016, Human Rights Watch issued a report, Occupation, Inc. urging international businesses to comply with their human rights responsibility and stop operating and servicing illegal Israeli settler colonies.