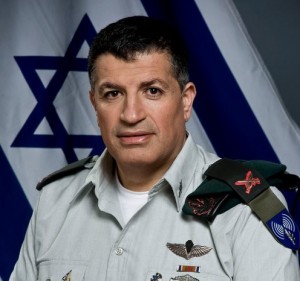 Today, the European Parliament was going to host a lecture by the Israeli Major General 
Yoav Mordechai, IDF's Coordinator of Government Activities in the Occupied 
Palestinian Territories.
Yoav Mordechai was a battalion commander with the Golani Brigade, an elite division in the Israeli army, during Operation Cast Lead in late 2008 and early 2009. This 23-day bombardment of Gaza claimed the lives of over 1400 Palestinians. Reports in the Israeli press indicate that soldiers under his command took part in an assault on the Tel al-Hawa neighborhood of Gaza City on 15 January 2009.
The meeting at the European Parliament was cancelled at the last minute this morning due to the pressure of civil society organisations and MEPs.
Irish MEP Martina Anderson, Chair of Parliament's Delegation for Relations with the Palestine Legislative Council, said: "We can't accept someone with such a track record being welcomed to the European Parliament. Put simply, this man has blood on his hands."
Portuguese MEP Marisa Matias added: "Giving him a platform to host a lecture would legitimise his violations of international law and human rights. Rather than giving a warm welcome to those who stand for repression and apartheid, the EU institutions should pressure the Israeli government to abide by the rules of international law and UN resolutions."
Civil society organisations from Italy sent a letter to Fulvio Martuscello – Chair of Parliament's Delegation for relations with Israel- condemning the invitation.
"If, as stated in its December 2014 resolution, the EU truly wants to contribute to the negotiations and the peace process, it should start by imposing consequences for Israel, including the suspension of the EU-Israel Association Agreement, rather than lending itself as an amplifier for Israel's militaristic and colonial policies. Initiatives such as the one you have organized today, involving someone likely involved in war crimes, seriously undermine the credibility of the European Parliament and of the Union's common foreign policy." the letter reads
Civil society organisations underline the fact that extending
 an invitation to an official directly responsible for the military component of 
the occupational regime in East Jerusalem, in the West Bank and in the
 Gaza Strip would contradict EU's multiple declarations of support for the 
resolutions of the Security Council and the General Assembly of the United
 Nations, which
 unequivocally condemn and demand an unconditional and immediate end to
 the Israeli occupation of the Palestinian land.
Hosting a lecture by Major General Yoav Mordechai would be seen as an
attempt at officially legitimizing the systematic violations of the international 
law, humanitarian law, the law of armed conflict and collective human rights,
which have become part and parcel of Israeli policy.