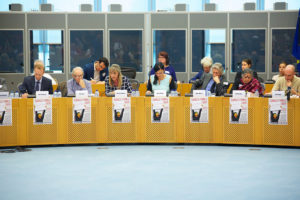 On September 25th Maria Matias – GUE/NGL MEP hosted Russell Tribunal on Palestine special hearing at the European Parliament on Israel's crimes in Gaza during operation Protective Edge.
Members of the jury and witnesses from the tribunal were present in the European Parliament to meet MEPs and present the Tribunal's findings.
Jury members including Director Ken Loach, Indian activist Vandana Shiva, and human rights lawyer Michael Mansfield addressed the European Parliament session, as did witnesses such as Israeli journalist David Sheen, American journalist Max Blumenthal, and Palestinian journalist Mohamed Omer. Musician Roger Waters closed the hearing.
The Russell Tribunal's extraordinary session on Gaza examined Israeli attacks on civilians and civilian infrastructure during 'Operation Protective Edge' in July and August of this year.
Human Rights Watch recently accused Israel of committing war crimes in a report analysing three attacks on schools in Jabalya, Beit Hanoun and Rafah. The attacks killed 45 people, including 17 children.
According to the United Nations, 2,131 Palestinians were killed during Israel's latest 50-day offensive. Of those 501 were children, about 70 per cent of them aged under 12 according to UNICEF.
The Tribunal heard evidence from experts and witnesses who were on the ground during the attack including British Channel 4 News journalist Paul Mason on the targeting of school shelters, PCHR Director Raji Sourani on the targeting of civilians, surgeons Mads Gilbert and Mohammed Abou-Arab on the attacks on medical facilities and workers, journalist Martin LeJeune on the targeting of industrial zones and factories, and Ashraf Mashharawi on attacks on government energy and waste infrastructure.
MEP Matias has echoed calls from the jury and the witnesses of the Russell Tribunal on Palestine (RToP) for the EU to adopt restrictive measures against Israel, specifically a suspension of the EU-Israel association agreement, a comprehensive arms embargo, and to advocate and act for the implementation of the International Court of Justice recommendations in its 2004 Advisory Opinion on the legality of the Wall.
MEP Martina Anderson said: "What we've heard at the Tribunal was heartfelt and insightful. It was shocking to hear about the IDF Hannibal Directive and other inhumane tactics used by Israelis in Gaza this summer. Not to mention the impunity of Israeli cultural, political, academic and religious leaders in inciting hatred of Palestinians."
Read the Tribunal's findings here