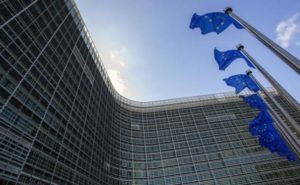 The European Council on Foreign Relations (ECFR), a major European think tank, issued a new policy brief titled "EU differentiation and Israeli Settlements", calling on the European Union to ensure that Israeli settlements in the occupied West Bank do not benefit from Israel-EU bilateral relations. A European think-tank released a report urging the European Union (EU) to curb its relations with Israeli banks and other financial institutions.
The brief goes on to say the EU and its member states have a "legal requirement to comply" with EU policy to differentiate between Israel and the occupied Palestinian territories in all bilateral transactions with Israel.
Referencing the European Commission guidelines from 2013, the report states "differentiation" should be officially named, recognized and referenced "as a fully-fledged policy" in "official statements issued at the senior political level" and specifies that transactions between European states and financial institutions are obligated, based on international law, to adhere to policies of differentiation in their daily dealings with Israeli banks, businesses, and individuals regarding all settlement transactions.
The authors raise the possibility of extending a differentiation policy to new areas, currently largely untouched by the EU's de facto differentiation efforts, including: the integration of the European and Israeli financial sectors, the charitable status within the EU of organisations that support Israel's settlement enterprise and the validity within the EU of legal documents issued by Israeli authorities in the Occupied Territories.
The most significant proposal is on banking, where large Israeli institutions have daily dealings with major European banks, while also providing loans and financing to Israeli businesses and individuals based in the settlements. Under European Commission guidelines from 2013, EU- and member-state-funded lending cannot be provided to Israeli entities operating in the occupied territories.
The EU is Israel's largest trading partner.
After the report was released, the stocks of four of Israel's largest banks dipped significantly, leading many Israeli media outlets to link the drop to the report's release.
Read the full report here